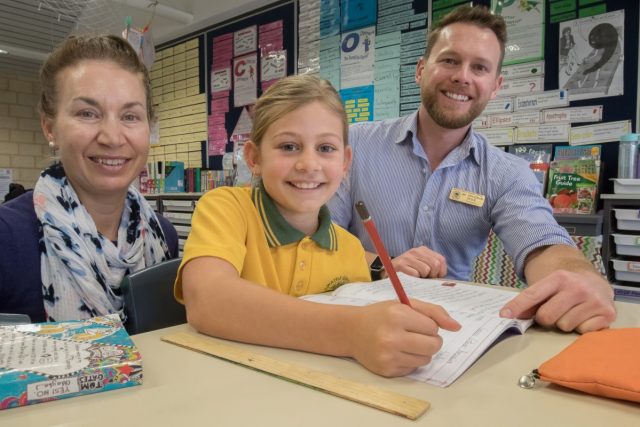 Tuesday morning was an exciting time for Wattle Grove Primary School as two staff members were announced as finalists in the prestigious WA Education Awards 2019.
The awards acknowledge the role educators play in shaping the lives of children in public schools in Western Australia every day while recognising their hard work, talent and dedication.
From 31 individual finalists and 12 schools running for top honours from 11 different categories, it was Annjanette Wisby's passion for children that saw her named as WA education assistant finalist of the year.
"This is truly an honour and privilege to be nominated for this award," she said.
"I felt a sense of overwhelming excitement when I was told I was a finalist."
Ms Wisby is an education assistant who works with students with disabilities and also conducts research and creates support resources for students and teachers.
She also conducts small group intervention programs to ensure student progress and coordinates meetings with education assistants throughout the school and with- in the wider Darling Range Learning Community.
She said she believes she was given every opportunity to be successful at school and beyond.
"I've gained experience and knowledge over the years and I love working alongside others to improve the lives of children," she said.
"I enjoy all aspects of my role and always look forward to challenges and ensuring the best outcome for all students."
As for year five teacher Jonathan Petch, he was named as a finalist in the WA teacher of the year category.
"To be honest it is still sinking in," he said.
"I am grateful for the experiences that have led me to this point in my teaching career and very thankful for the recognition.
"To work at such an exceptionally dedicated school really is an honour and a school that acknowledges the hard work that goes into teaching is the icing on the cake."
His undeniable passion for teaching literacy and his ethos based around strong values such as respect, commitment and kindness have seen Mr Petch develop an effective relationship with his students.
"I love teaching it and I love seeing the progress in my students," he said.
"Kids stop me in the playground to tell me how much they have read or what they wrote about in class."
Mr Petch said he is committed to student improvement and works hard at contributing to building a professional learning culture across the school.
Gifted and talented education is a field that has shaped the teacher he is today and he was given the opportunity to teach a full time gifted and talented class for two years.
"It was uncommon ground for me Principal Julie Roberts said both so I enrolled in a gifted and talented Annjanette and Jonathan were education university course so that I could provide the very best for my class at that time," he said.
"In those two short years I grew so much and the skills and knowledge about gifted and talented education are employed in my teaching practice every day.
"I really do get to go to work every day to the best job in the world."
Principal Julie Roberts said both Annjanette and Jonathan were thrilled when they learnt of their selections.
"It's such a great honour and so well deserved as they are both exceptional educators in their respective roles," she said.
"It's a wonderful acknowledgement from the school community of the outstanding contributions that they do across the school."