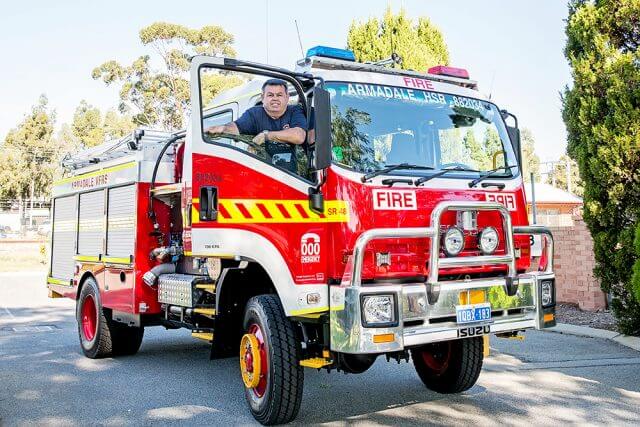 The heat has never really bothered Armadale resident Andrew Clift, which is why after more than 30 years he still has the same passion for volunteer fire fighting as he did when he first signed up in 1984.
As the Armadale Volunteer Fire and Rescue Service captain, Mr Clift will be honoured for his service at Government House on April 10 where he will receive the Australian Fire Services medal.
Mr Clift has been captain at the service for 16 years and joined after firefighters visited his school.
"I ended up signing up and I've been there ever since," he said.
He keeps coming back year after year because of the mateship and the chance to give back to the community.
"The people here, the friendships, making new mates, camaraderie and giving to the community and helping out where I can with different community events like the Kelmscott show," he said.
Mr Clift said he had seen more than his fair share of devastation and had even fought fires over east in the 1990s and 2000s.
The fires that stuck most in his mind were the Kelmscott Roleystone bushfires and the recent Waroona Yarloop fires.
"The Kelmscott hills fires are most probably the biggest ones that stick in everyone's mind," he said.
"We were actually out of the area at another fire in Red Hill and we came back later in the afternoon when the fire had basically gone through and taken out all the houses.
"It was more or less just going through and mopping up and doing what you could, going through houses making sure there was no one there. It made it a little bit harder for us not being there because we knew what was happening in our own area."
He said there had been plenty of changes in the industry.
"The equipment has gotten better over the years," he said.
"The vehicles are getting better, they're more safety conscious for the crews with burn over protection and things like that.
"The personal protective equipment is a lot better suited to the jobs we're doing.
"When I first started we had rubber boots and overalls and now we've got all level two turnout gear and over trousers and cargo pants, everything."
Mr Clift said changes were still occurring with the recent arrival of a new truck.
"We have a new HSR which is a hazmat structural rescue appliance," he said.
"It's a dual cab Izuzu which is a little bit bigger than we have at the moment.
"It's a lot more suited to the area and the incidents we attend in Armadale."