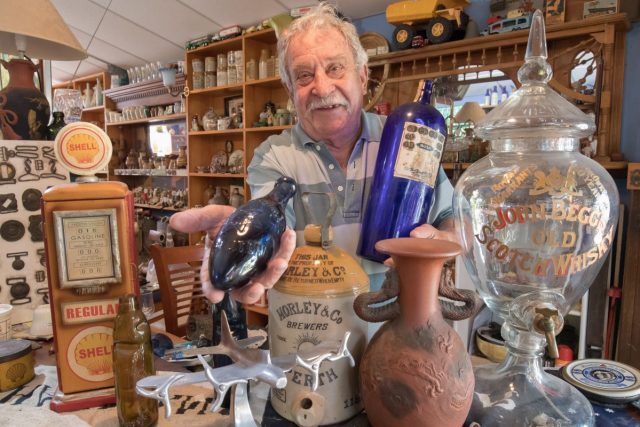 To the club it means more than just old bottles, old toys and bizarre objects.
The Colonial Bottle and Collectors Club (CBCC) of Western Australia is holding their annual bottle show and collectables fair on October 12-13.
The club is now 49 years old and is looking forward to the upcoming exhibition and fair to celebrate their 50th anniversary at the Cannington Exhibition Centre.
The exhibit will have some of the most precious displays from local members and other club members.
Some of the highlights of the exhibition include a miniature bottle sample display,
which was used by travelling salesmen to encourage people to purchase their wares.
Another display will be of soda siphons, a bottle that was first used for soda water.
The collection will also display bar accessories, old matchboxes, known as vesta boxes, and a range of old enamel signs.
CBCC vice president Lindsey 'G' said one of the most precious collectables at the club is the Frank Craig York Blue Lip Marble bottles.
"It often brings back memories to people when they see the display," he said.
"A collectable item can be as new as yesterday, but it has to have a theme, for example some of our members have collected dog tags from Canning and these go back to the old shires around the state.
"Others collect pressed glassware that was manufactured prior to the WW1.
"Or they collect bottles that come from a particular manufacturer located in Perth or the regions of Western Australia, like the Pilbara region."
Lindsay said bottles 20 years or older are considered collectable, like the old cool drink bottles that were produced in the smaller towns in WA.
Lindsay's first bottle collectable was a green soda bottle that had embossed words ' Open with a Penny' found at Coolgardie.
It all started in 1970s when CBCC president Colin Smith found old bottles during his travels to the goldfields area.
Upon his return to Perth he placed an advert seeking other people that were interested in forming a club to collect old bottles.
The club was established at Mr Smith's house in Subiaco and then grew to be a club in the Maylands area and now resides at the Cannington Exhibition Centre, where the monthly member gathering is held every second Tuesday.
Lindsay said he remembers an early dig in South Fremantle where Mr Smith had salted the area with ginger beers and all the members were able to find a bottle on the day.
The club is hoping to have more than 500 people visit the event each day over the weekend and they have arranged some caterers to ensure people can stay for a cuppa and lunch whilst they view the exhibition.