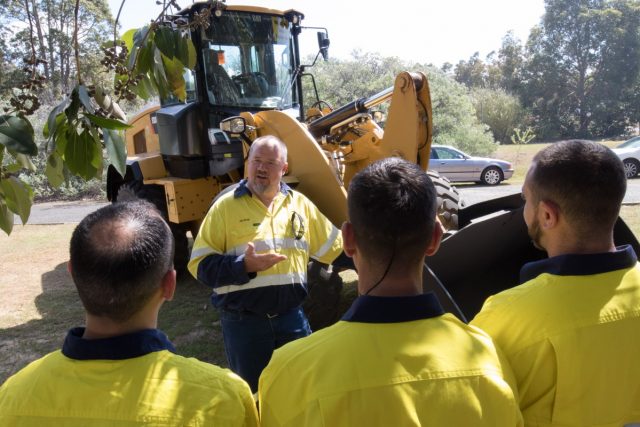 After spending most of his young life involved in crime, prisoner X said it is time for a change.
Thanks to a new program for Aboriginal prisoners, he may have the chance to do just that.
"I have been involved in crime since I was 14-years-old, so it's been at least 15 to 16 years in and out of jail, and it got to a point where enough is enough, there is no life in crime and it is not a life living in jail – there's more to life than that," he said.
"I'm at a point in my life now where I want to make a change.
"This sentence I have now gives me an opportunity to be involved in traineeships and this will be fourth traineeship."
Carey Training runs the Carey Bindjarep Project – an Aboriginal owned and operated organisation with more than 20 years experience in delivering specialist services in the mining and civil industries.
It is also being run in partnership with the WA Department of Justice.
It involves giving select prisoners the chance to engage in a 14-week training program on a simulated mine site in the hope of securing full time work, something that prisoner X said he wants to do not just for his family but also for himself.
"It's the chance to learn new skills while I'm in prison, it's an opportunity to do things I may not have time to do on the outside," he said.
"If I can better myself for the future and for my kids and if I can break that cycle and hopefully my kids can see the mistakes I have made and that they don't have to make them.
"There is nothing worse than being taken from your kids and the fear of not being part of their life and not being able to there to support them, nurture them and help them grow."
Carey Pty Ltd, BHP and FMG have already expressed interest in employing successful graduates, but it is up to individual prisoners to put in the effort.
"I think that being given this opportunity in being able to transition from prison into a job and that uncertainty of not knowing where your future's going is a big thing for me and being able to be given that opportunity to go from here to a job is unreal," he said.
"You can give someone a job but if they are willing to put in the hard work…the more work you put into it, the more you appreciate it I think."
The program has been helped along with donations from BIS Industries and Westrac who provided some heavy machinery for the course.
The determination on prisoner X's face and his solemn words speak volumes about his will to overcome past obstacles, to succeed in the course and get on with his life.
"What drives me is to leave a positive legacy for my kids, to be someone they can look up to and want to follow in my footsteps," he said.
"I also want to do it for my people but I have to make myself proud before anyone else. I have to fix myself up.
"I've been given an opportunity and I need to grab it with both hands."