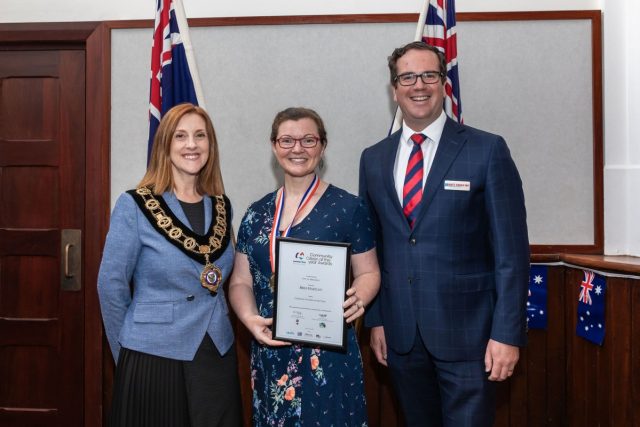 A love of all things theatre and helping the local community through tough times has seen the president of the Roleystone Theatre awarded Community Citizen of the Year, in a tied result for first place.
Bree Hartley has lived in Armadale her entire life and has always volunteered time to give back to the community.
Through her role as President of Roleystone Theatre, as well as her tireless efforts for the wider Armadale Community, Ms Hartley has dedicated years to helping those around her.
One of Ms Hartley's most recent efforts was saving Roleystone Theatre and campaigning for the redevelopment of the theatre after structural issues were identified in 2018.
"I really love this place, and I've always wanted to be part of it on a deeper level and part of that is giving my time and energy to the community," Ms Hartley said.
Receiving the Community Citizen of the Year Award for Armadale was a surprise for Ms Hartley who believed there were a lot of worthy nominees.
"I do what I do because it needs to be done and not for an award. To actually receive it was an unexpected pleasure because there were so many worthy nominees this year."
Last year there were no nominees for the award and when Ms Hartley found out, she encouraged the community to vote for local members.
"The awards are a lovely opportunity for the community to nominate individuals and groups to acknowledge their hard work in making where we live a better place to be."
This year 31 nominations were made across four categories, causing a tie for the awards of Community Citizen of the Year and Senior Community Citizen of the Year.
Ms Hartley shared her award with Veronica Read who volunteers to increase adult literacy in the City of Armadale.
Labor federal member for Burt, Matt Keogh, said Ms Hartley has always been generous, passionate and community focused in her work with the theatre and as a local teacher.
"Bree and I started our theatre careers together at the Roleystone Theatre more years ago then we care to admit, though she clearly had a lot more talent," he said.
"It's so important for local heroes like Bree to be acknowledged for the work they do, to recognise the tremendous selfless effort of these heroes, to let our community know of all the great things going on that they can also be a part of, and to encourage others to contribute as well."
"I know Bree and the other award recipients don't do what they do for the kudos or certificates but for the love of our community and our community is all the better for the great commitment of the people in it."