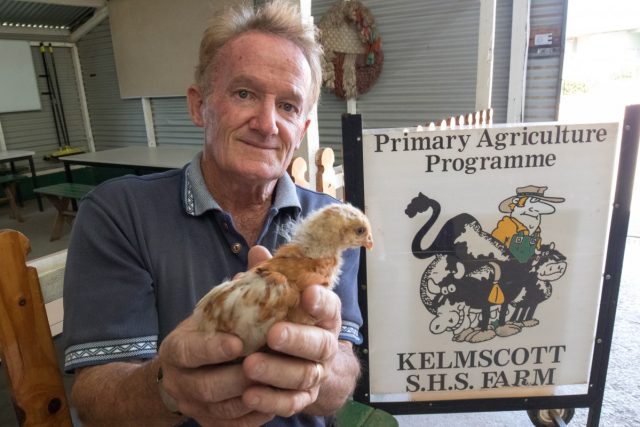 For the past 25 years Norm Hammond has been teaching the youth of today about the ins and outs of the agriculture industry at Kelmscott Senior High School. 
Mr Hammond currently heads the Primary School Agricultural Awareness program. However, due to the cessation of the program's funding, he will be hanging up his boots. 
Tomorrow will be his last day at the school. 
The program, which has been operating at the school since the late 1970s was set up to provide thousands of students aged from kindergarten to year six with a greater awareness of the origin of food and fibre sources and the people, processes and products that are involved. 
Mr Hammond told The Examiner the biggest delight had been seeing the delight on the children's faces as they explore all facets of the agriculture industry. 
"To see the sheep being shorn, the cow being milked, to collect the eggs, to pick the fruit and vegetables, to handle the nursery animals and to behold the size of the cattle, these are experiences unavailable in the normal school classroom," he said. 
"The kids come here and experience these things and when they go back to school they can visualise these processes, it is very special." 
With work ceasing at Kelmscott High, Mr Hammond, 67, will now turn to the idea of retirement, which he thought wouldn't come for another few years. 
"Retirement is a temporary thing for me," he said. 
"During January and February I will be downsizing, I don't need nine kayaks, 10 tents and six eskies, which I have previously used for our leadership camps. 
"After that you never know, I might get into limousine driving or bus driving, something for the next few years before I officially retire." 
Principal Trevlyn Geiles said Mr Hammond was an excellent ambassador in the wider community and he thanked his efforts and service to the school over the past 25 years. 
"Norm's enthusiasm and dedication is a testament to him and I would like to wish him all the very best for his well-earned retirement," he said.