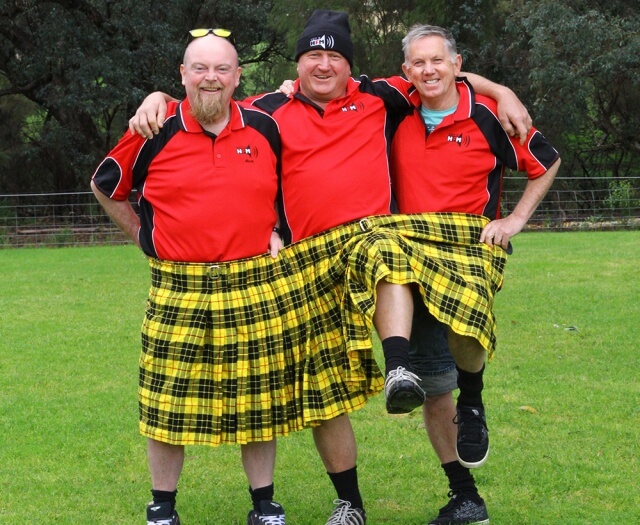 Minnawarra Park will again play host to hairy legs and tartan as the City of Armadale's annual Perth Kilt Run and Highland Gathering rolls into town on September 18.
The city is encouraging people to register for the event, which pits Perth, WA against Perth, Canada and Perth, Scotland in a competition to have as many kilted runners as possible in one race.
The run is expected to raise thousands for Beyond Blue, the Amanda Young Foundation and the Intensive Care Foundation.
Armadale mayor Henry Zelones said runners could take part in the five kilometre warrior challenge or 2.5 kilometre classic leisure run or walk.
"Perth, Canada and Perth, Scotland have been competing in this challenge for a number of years," he said.
"Now in our fourth year we hope to edge even closer to taking out the title of world's largest kilt run.
"To be able to do this we need people from all over Perth to have some fun by donning a kilt and taking part in this charity fun run."
The 107.3 HFM team will be running in the event this year.
Presenter Bec Dewar said it was a great event and gave the HFM team a chance to catch up with each other.
HFM secretary Frank Scatchard said with the money going to charity it was a fantastic cause.
The 2016 Highland Gathering, held right after the Kilt Run, is WA's largest Scottish festival.
Punters can enjoy live Celtic music, strongman competitions, highland dancing, medieval fair, pipe band competitions, Scottish tavern, food and craft stalls, all showcasing the Scottish culture.
The Kilt Run is a wheelchair accessible event and ACROD parking will be available on Neerigen Street.
For more information on how to register for the run and organise your kilt visit perthkiltrun.com.au and join the event on the City of Armadale facebook page.