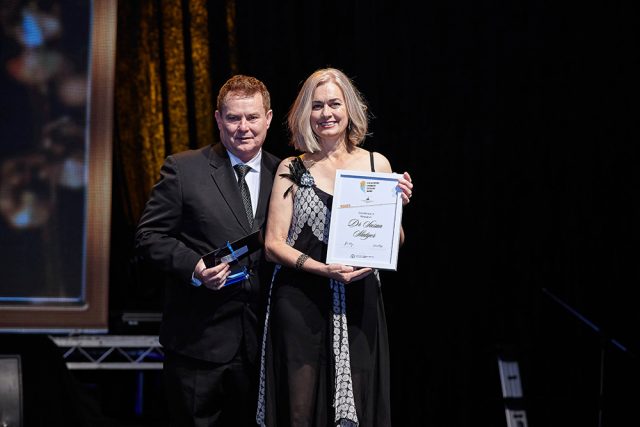 Curtin University and Sir Charles Gairdner Hospital researcher Dr Susan Slatyer received the highest nursing accolade in the state on the weekend after being crowned Nurse/Midwife of the Year.
Dr Slatyer took out the award after also winning her the Excellence in Research category at the 2016 WA Nursing and Midwifery Excellence Awards on May 7.
In a joint partnership with Curtin University and Sir Charles Gairdner hospital, Dr Slatyer's important work helps navigate the clinical aspects of a hospital with the needs of staff and patients.
Her work ranges from developing better conditions for dying patients and their families, to boosting the wellbeing of nurses.
She said it was a surprise to win because of the stellar talent of the other nominees.
"I really didn't expect to win my category let alone the whole thing," she said.
"It was such a shock."
She said the awards highlighted the importance of nursing in the state.
"I just adore nursing and what we can do as nurses to improve outcomes for patients, their families and also looking after each other as well," she said.
"The nursing role is highly skilled but it's also human to human interaction.
"We care for people physically but we also care for them emotionally as well, it's a very complex role."
Health Minister John Day said Dr Slatyer was a deserving winner of the prestigious award and an outstanding ambassador for the profession.
"Dr Slatyer is a highly respected and skilled nurse researcher who engages nurses in research to ensure quality, safe and patient-centred care," he said.
"Through education, role modelling and mentoring, Dr Slatyer is helping fellow nurses to better understand the important role research plays in improving patient care."
The awards were held at the Perth Convention and Exhibition Centre on Saturday.
Category winners were chosen from 34 finalists from across Western Australia's public and private health sector.
For winners visit www.wanmea.com.au.