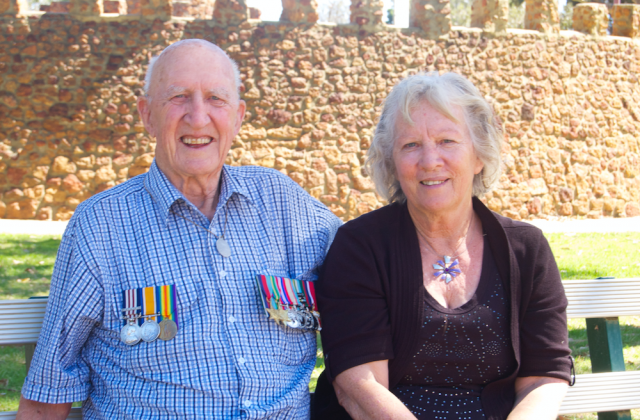 Following her 96-year-old father's pilgrimage to the battlefields of Europe earlier this year, a Byford resident says she is proud of her father Frank Beadle.
Thea Visser said she was surprised when her father and older brother told her they were going on a 10-day tour of Belgium and France in September, which covered the Western Front, but she still helped her father prepare for his trip.
"We went on walks every day before he left," she said.
"That way he was able to trek through the battlefields."
It was an emotional journey for her father, who took with him his own father's dog tag and medals.
Mr Beadle said his father was a stretcher-bearer in the First World War and he was awarded a number of medals for acts of bravery.
He said he was also wounded and lost a leg.
"I was at the battlefield exactly 100 years since my father was there," he said.
"It was a very special moment."
Ms Visser said her father laid a wreath at the dawn service held in September to commemorate the battle.
"It was just amazing," she said.
"A lot of our family saw the moment on TV."
Ms Visser's family has a long history of serving their country.
Her grandparents served in the First World War, her father was in the navy during the Second World War, her uncle lost his life when his ship was torpedoed in 1942 and her brother, and Kelmscott resident, Fred Beadle served in Vietnam.
Ms Visser said it was fascinating learning about her family's military service.
"Living in Australia I didn't quite realise the enormity of it all," she said.
"We're so far away here, but after dad got back from his trip and listening to his stories, we're learning so much."
Mr Beadle said it was when he saw two Japanese prisoners of war, when he was serving in New Guinea, that he realised war was futile.
"Suddenly it struck me they were just like the rest of us," he said.
"Somebody's father's, somebody's brother, somebody's husband, they were just doing their duty.
"I have carried that with me ever since."
Mr Beadle said his trip was marvellous and the journey may be over but the memories will last forever.