A special 100th birthday was celebrated over the weekend, as local Elsie Slingsby reached the milestone.
Mrs Slingsby was born on September 17, 1921 in Jarrahdale to Harry and Maude Lillee.
Elsie was the fifth child of 12, five sisters and six brothers and is the only remaining sibling.
Harry Lillee came to Perth from England to start a family, according to Elsie's daughter Robin Berry they lived in a small house in Jarrahdale.
"They were a happy family, in their little house," she said.
"People wouldn't normally live in that kind of house now with a big family but they were happy."
In her early adolescence, Elsie worked in Manjimup on the tobacco during the Second World War.
"A man met us on the train to go to Manjimup to work," Mrs Slingsby said.
"When I got out of the train this man saw me and said see that girl coming down there, he hadn't met me yet but he said I'm going to marry her."
That was when she met her husband Albert George Slingsby, and in 1942 they married in the registrar's office.
"I didn't want a fuss made, we were going to be married and I got my dress and artificial bouquets," she said.
"I went and saw a friend get married and said to my husband, I'm not going to go to all that fuss so let's go to the registry office and he said it was up to me.
"We went to the office and gave our names, which you had to do a fortnight before you got married, and we got married.
"We went had a nice afternoon tea and had a cake.
"Later on, he went into the air force because he was called up and we couldn't have been happier."
Elsie has two daughters Robin and Maureen, two grand children, four great-grandchildren and four great-great grandchildren.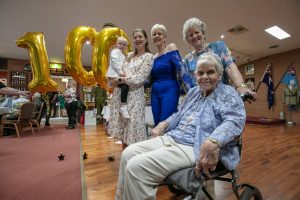 Elsie now resides in Mount Nasura living with her daughter Robin.
Over the weekend the family celebrated Elsie's birthday with a party at Armadale RSL.
Elsie is the aunty of famous cricketer Dennis Lillee.
"I love how modern she's stayed with her thinking and her memory, she still remembers everyone's name and birthdays of all of her relatives," Mr Lillee said.
"She's as smart as they come and she's so with it.
"She's such a wonderful, loving and lovely person and I can always remember that right from when I was very young.
"She's always managed to keep in touch."