If the Guesty Boys weren't already well known around the Go Karting track in WA, they are now after making names for themselves at the recent State Karting WA Championships at Hurricane Go Kart Club.
Twin brothers Dylan and Sebastian Guest, nicknamed the Guesty Boys, proved their Go Karting skills at the championships which ran from September 25.
The brothers, who hail from Armadale, both scored in the top three of the KA3 Junior Class at the event in S8 Riccardo Karts, with Dylan taking first place and Sebastian achieving 3rd.
Dylan also took out the top spot in the KA4 Junior Light Class, in a Nordix Tony Kart.
According to the boys' mum Lisa Guest, the championships took on a different format to usual as the Hurricane Go Kart Club celebrated their 60th anniversary this year.
"They chose the original format from the first year and all the heat laps adding up to 60 to commemorate the years of the club," she said.
The brothers turn 15 this month and according to Mrs Guest, they compete in the most classes of any Junior class driver in Western Australia.
"They went to have some fun at The Kart Centre in Canning Vale then started competing in fun nights at the centre doing well winning one of the enduro league night series as a team against at the time experienced and well-established Kart racers," she said.
"They started bitumen racing June 2019."
Both Sebastian and Dylan enjoy the friendships and comradeship they receive through Go Karting and like to help others, learn how to work on the karts, travel and have fun racing.
"They race in older karts mainly the Daniel Ricciardo kart by Birel Art and love the challenge taking the fight up to the newer karts," Mrs Guest said.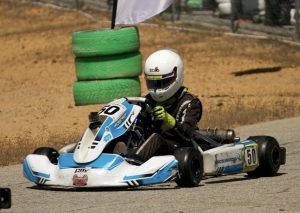 Dylan and Sebastian competed at their first State Championships in 2020 qualifying in 9th and 4th places respectively, with a very hard event seeing both being knocked off track, they finished with Dylan placed 9th and Sebastian at 11th.
Dylan and Sebastian both work on their own karts making decisions on setup, what tyres and tyre pressures to use in the different weather conditions and alterations they need to do.
According to Mrs Guest boys spend many hours reviewing karting footage coming up with strategies to help them race.
"They are both very committed to developing this into a future career of racing," she said.
"They boys are on the look out for sponsorship to help them further their career in racing with plans next year (COVID restrictions permitted) to compete in National rounds and possibly a European round or World Championship."