Feral pigs which have been plaguing the Wungong area and surrounding neighbourhoods for the past six years have returned earlier than usual this year.
Wungong resident Roslyn (last name withheld) said feral pigs have been active around her property since 2014, usually in autumn and especially along the creek but this year they have been visiting her front garden.
"They have broken through my back fence and most of the other damage is around the base of the trees where they dig looking for roots to eat," she said.
"Over the last week or so a private contractor has set up a trap on my property and has caught about eight pigs."
Roslyn said she is not only concerned about the damage they are causing but also the impacts of the diseases they may spread.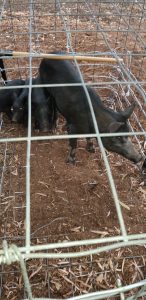 "These include parasites and potential diseases like African swine fever and foot and mouth disease," she said.
"They can also spread plant diseases."
A City of Armadale spokesperson confirmed the city has received a few calls regarding feral pigs spotted around the Wungong area.
"The city is responsible for feral animal control within its reserves, for example in the Wungong area and this includes Armadale Settlers Common, Bungendore Park and Wungong Gorge," the spokesperson said.
"Concerns in areas adjacent to regional parks are brought to the attention of Department of Parks and Wildlife, Water Corporate and Department of Planning."
The spokesperson confirmed the city has undertaken feral animal control twice a year in spring and autumn since 2016.
"Previous feral animal monitoring and control in the city reserves has identified an ongoing issue with feral pigs, goats and fox populations within the City of Armadale," they said.
"For this reason our current Feral Animal Control program is targeted at these species."