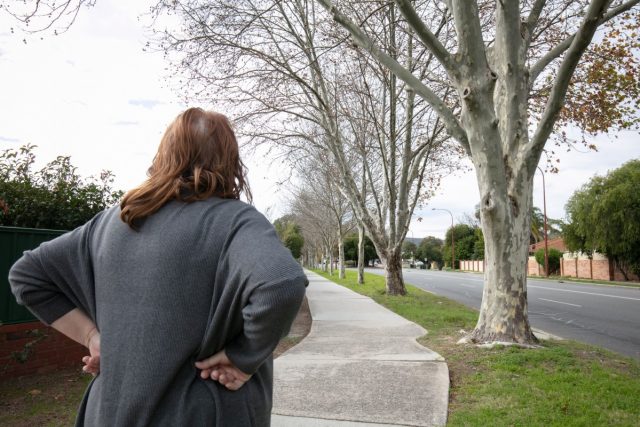 One local resident has been rallying the City of Gosnells to take responsibility for the city's London Plane trees during autumn at her property in Hartley Street.
May Holland, a 60-year-old living with terminal cancer, said she's had to clean eight to nine bags of leaves every few days during the autumn season.
"I can't physically get rid of these bags anymore; it's got to the point where I can't stand it any longer," she said.
"One of my cancer tumours sits on a muscle near my abdomen and this causes pain and hinders my ability to walk long distances.
"We have very little money in strata because this year we had to re-pipe all our units plumbing which costs over $33,000.
"Getting a professional cleaner every couple of days in autumn would be very costly.
"The council should be monitoring a yard for someone that can't physically do it.
"I am just asking them to do it during autumn even though I am affected by it all year.
"They need to take responsibility for these trees, it is not fair that they make the stupid decision to grow these instead of planting native trees."
The city confirmed no more London Plane trees will be planted this year.
In 2019 the city planted 2,569 trees in streetscapes and parks, including one London Plane tree, which is 0.04 per cent of the total trees planted.
Ms Holland said the council asked her to sweep debris onto the street and that a sweeper would collect it.
However, the amount of shedding leaves she gets each year during autumn is enough to fill up 240 little bags and she believes this can be a hazard for cars passing by.
Tree Services coordinator Robert Fairclough told Ms Holland's strata manager that the responsibility for maintaining a property falls to the individual owners and occupiers.
"The city does send crews to clean up leaves in an around the public areas of the town centre, however this does not apply to leaves on private land," he said.
Chief executive Ian Cowie said the city was aware of the issue involving excessive leaf debris from verge tress or those growing on city-managed land.
"Arrangements can be made to remove leaves with a street-sweeper if residents can sweep the leaves on to the road," he said.
"Residents in a unit complex should check with their strata agreement regarding maintenance as city officers cannot carry out work on privately-owned land."
Mr Cowie confirmed that the city does not consider this to be a hazard for cars if dumped on the street.
Whilst Ms Holland has terminal cancer, the city does not provide health services or health-related support.
Mr Cowie said the city adjusted its street maintenance and works program in 2019 to better manage the increased volume of leaf debris during autumn.