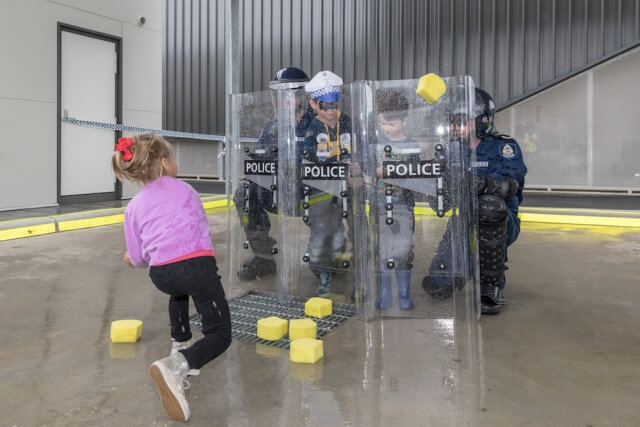 Hundreds of residents braved chilly weather and rain to attend Sunday's open day at Mundijong Police Station.
There were a variety of activities available and residents strolled through the station and saw the interview rooms, firearms and some even had their fingerprints scanned.
Families enjoyed seeing the inside of the police van and exploring the Bearcat, an armoured rescue vehicle for high-risk situations.
Kelmscott mother Kerry O'Brien was with her family trying on Kevlar vests and helmets and she paid tribute to the efforts of the policing team.
"We had a great time," she said.
Mundijong resident Ellen O'Dempsey was out with her friends and said it was a wonderful day.
"The coppers are doing such a great job," she said.
"This open day is great and it makes you realise that they are human too just like the rest of us.
"I'd be too scared to do their job and they do it brilliantly."
It was the first open day for the station and Mundijong Senior Sergeant Darryl Brandis said it was fantastic with a great crowd and support from the community including the SES, fire brigade and the Shire of Serpentine Jarrahdale.
"Considering the rain the crowd has been brilliant," he said.
"People see the outside of the building and see the front foyer and that's all they see so the open day was a good opportunity for them to see us and the place we work in.
"We're friendly, there are no terror cells here and this open day is a chance for the community to get to know us."
Snr Sgt Brandis said he hoped some of the children who were at the open day would be inspired and grow up to become police men and women.
"This could be the stepping stone in their career," he said.