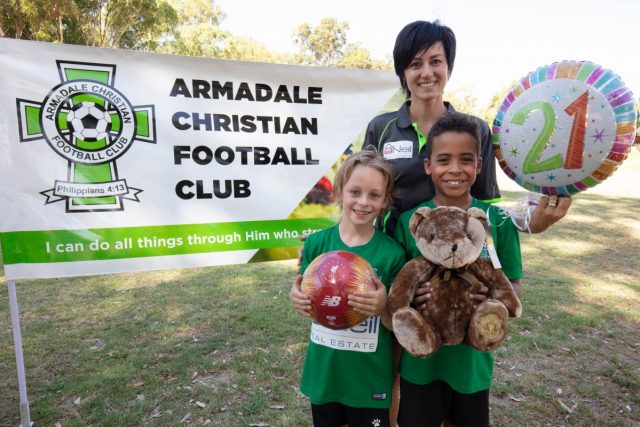 Perth Glory superstars Shannon May and Jamie-Lee Gale will take time out of their busy schedules to attend a community event next weekend.
Armadale Christian Football Club has invited the two women's league players to attend its free community event and registration day, which promises to include something for everyone with an obstacle bouncy castle, dunking machine, face painting and team activities, as well as plenty of food and drink options to keep hungry mouths at bay.
Club member Elspeth Marshall said the event also doubles as the club's 21st birthday celebrations.
"Recognising that there was a market for people who wanted to play soccer but couldn't compete on Sundays, the club was started 21 years ago with the inception of a metropolitan Saturday competition," she said.
"Armadale Christian Football Club has developed into a successful and thriving club with teams in the finals every year and one of our men's teams winning the grand final for the last two seasons.
"The Club is always keen to have more players and offer a very welcoming environment with a combination of competitiveness and friendliness."
Ms Marshall said no church allegiance is required upon membership, as a total of 40 per cent of the club's members do not attend church.
The community event and registration day will take place on February 16 from 2pm to 5pm at Rushton Park.
For more information call Wenelyn on 0420 564 566 or visit the Facebook page.