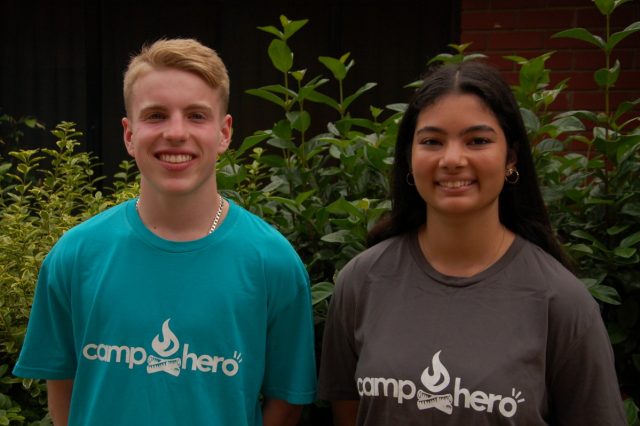 High School students attended a camp over the school holidays where they learnt how to prevent suicide and improve mental health.
The five-day prevention program, Camp Hero, is designed to empower young people and equip them with skills required to improve mental wellbeing and reduce the rate of intentional self-harm deaths.
Suicide was the leading cause of death for people aged 15 to 49 years old in 2019 and Western Australia had the fourth highest suicide rate by state in Australia with 3,318 intentional self-harm deaths across the whole country.
Zero2hero run Camp Hero every year and are a Perth-based not-for-profit organisation committed to suicide prevention and mental wellbeing.
Students between Year nine and 12 submit applications based on their current leadership roles and interest in becoming a mental health ambassador at their school.
Three of the 78 students at the camp over the April School Holidays hailed from Kelmscott Senior High School.
Students Nicole Spurrier and Lachlan Verity attended the camp and said they learnt a lot about mental health, which has equipped them with skills to handle crises when they returned to school.
"The camp was to be able to build us as people and give us the tools to help others in the community and educate us on mental health issues," Mr Verity said.
"In particular mental health in youths and how to prevent it."
The camp focused on five key themes of self-awareness, physical health, mental health, personal challenges and community impact.
Miss Spurrier said those who completed the camp received a special certificate and qualification.
"A big part of the camp was helping yourself before others, so they used the analogy that you put your oxygen mask on before others," she said.
"We got our safe talk certificate which is in suicide prevention and we did a three-hour course on how to ask hard questions to those who might be thinking about suicide in an appropriate environment."
The most at risk youth for committing suicide are aged 15 to 17, this age-range accounted for 80 per cent of child suicides in 2019.
Mental health is a leading cause of concern for young people, with students from 12 schools across Perth's southeast corridor labelling the issue as the biggest problem at the Burt Youth Leaders Forum on March 30.
CEO of sero2hero Ashlee Harrison said Camp Hero is designed to bring together students, mentors and experts to equip young people with skills they need to become mental health leaders.
"We surveyed thousands of students and found that nearly 90 per cent of them were speaking to a friend first, when they had a problem or issue," she said.
"When a young person is dealing with a mental illness, accessing the right mental health support can be the difference between life and death.
"Our Camp Hero program was created to have young leaders and peer supporters access those young people that are struggling and not accessing the right help."