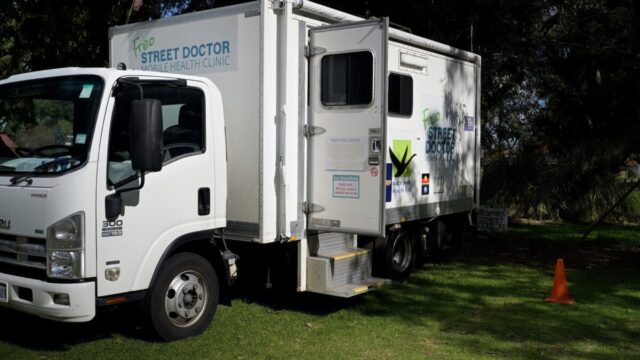 Canning council launched a second Freo Street Doctor trial in Bentley on Tuesday coinciding with World Homeless Day.
In August, the city received a Homelessness Week grant of $5000 from Shelter WA, which has contributed to the launch of the trial at The Shop Front in Bentley.
Freo Street Doctor is a mobile medical health service facilitated by Black Swan Health, that provides a visible, easily accessible and non-judgemental primary health care service to marginalised, disadvantaged and homeless people.
The council first partnered with Black Swan Health in January 2022, bringing their mobile health service to The Seventh-day Adventist Church Soup Kitchen in Cannington.
The Cannington Freo Street Doctor Clinic is available every Friday and is co-located with Orange Sky Mobile Laundry service and Cannington Soup Kitchen.
The Bentley trial is similarly co-located and will operate from The Shop Front in Bentley every Tuesday, alongside Orange Sky mobile laundry service.
Canning mayor Patrick Hall said "the city is a diverse community in many ways, and that diversity also means that we must recognise that there are people in our district who are disadvantaged and in need of assistance.
"The $5,000 grant from Shelter WA and collaboration with Black Swan Health will go a long way towards delivering essential health services where they are most needed".
Cannington – The Freo Street Doctor will be available every Friday between 2-5pm at the Seventh-day Adventist Church (142 Wharf Street, Cannington), with Orange Sky Mobile Laundry service from 5-7pm and free meals and food parcels at Cannington Soup Kitchen from 6pm – 7pm;
Bentley – The Freo Street Doctor will be available every Tuesday from 10am-1pm at The Shop Front in Bentley (59 John St, Bentley), alongside Orange Sky mobile laundry service from 11.30am-1.30pm and free meals and food parcels at The Shop Front Kitchen from 11am-1pm.
The City of Canning Homelessness Plan (2021-2024) can be viewed at canning.wa.gov.au/homelessness
Find out more at https://www.blackswanhealth.com.au/freo-street-doctor/