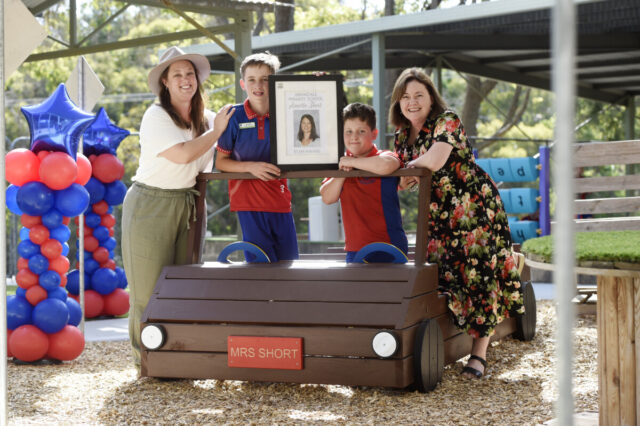 Last Friday the Armadale Primary community officially opened its new kindy playground.
Staff, students, families, and local member Hugh Jones all celebrated the completion of the project which showcases a special tribute to beloved and much-missed former kindy teacher Annette Short.
"She was the heart of the school, everyone just loved and respected her."  – P&C president Katherine Jolley.
The playground project was the big-ticket item on the P&C's agenda this year.
Ms Jolley said the P&C and school volunteers had raised an impressive $32,000 this year through the school fete, the recent quiz night, Mother's Day and Father's Day stalls and dress-up days – the results of a concerted effort to reinvigorate school spirit after the isolating effects of COVID.
The kindy playground was chosen as the project most needing attention.
"It was looking very sad and sorry for itself. And so, we set ourselves the goal late last year to raise enough funds to transform it," Ms Jolley said.
"It was a huge team effort. I'm just so impressed by the extra yards volunteers have gone to, to hit that target."
A total of $25,000 was spent on the playground renovation which features a new grassed and shaded area, balance beams, teepee, weaving concrete paths complete with road signs, and Mrs Short's memorial car.
A new outdoor kitchen will also be installed in the coming few weeks.
Kindy dad Michael Beard was in charge of managing the project.
Work was completed by two local companies over the recent school holidays, with kindy kids returning in delight in term four to discover their brand-new play space.
"The kids are so excited. They love the track and road signs. And they really love the car tribute to Mrs Short," Ms Jolley said.
With momentum behind them, the P&C are now determined to install outdoor kitchens in the Pre-primary, Year 1 and Year 3 spaces, picnic tables for a special Year 6 area, more playground equipment, and fix the fencing around the Pre-Primary and Year 3 areas.