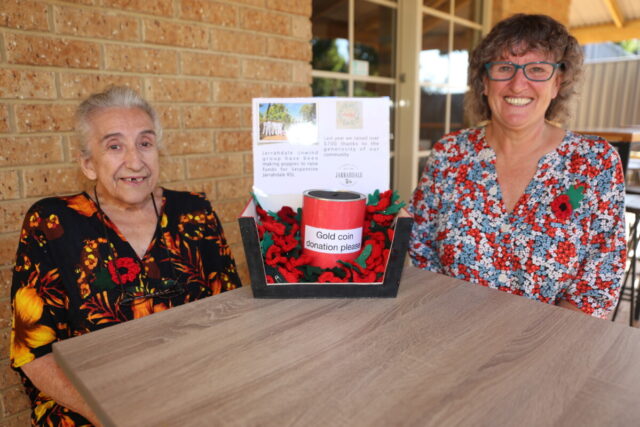 Ladies from Jarrahdale's Unwind group are again hard at work making poppies to remember those who gave of themselves in active service to our country.
Over 500 poppies were crocheted by the group between February and ANZAC Day this year raising an impressive sum of over $700 for the Serpentine Jarrahdale RSL.
Wendy Parsons would have easily stitched nearly half of those, and plans to make a further 200 by Remembrance Day this Saturday.
"I enjoy doing it, and it gives me a sense of purpose," she said.
The materials for the poppies have been donated by members of the community, meaning all money raised is able to be donated to the RSL.
"It hasn't cost us anything but our time…and biscuits," volunteer Jan Booth said.
Poppies can be purchased for a gold coin at the Jarrahdale Post Office and at the Jarrahdale Tavern.
A service of remembrance for Armistice Day will be held at 10.30am on Saturday at the Jarrahdale War Memorial on the corner of Jarrahdale Road and Munroe Street. Poppies will be available for purchase at the service.
Members of the Jarrahdale Community Collective and Jarrahdale Volunteer Bushfire Brigade will lay wreaths and the local school has volunteered to recite the Ode of Remembrance.
Attendees are welcome to continue down the road to the pub after the service.
Service organiser Jan Booth said she has made it a mission of hers to reinvigorate the town's neglected war memorial and mark services properly.
"On my first Armistice Day here, it was just me and one other chap at the memorial standing there silently," she said.
"The act of remembrance is something we should all be a part of."
"And to see a war memorial in disrepair was absolutely heartbreaking. I'm a firm believer that if you see something that needs doing, do it for yourself."
Jan rallied the community which breathed life and love back into the ageing war memorial. It was rededicated in February to mark its 100th anniversary. And attendance numbers at services have been steadily growing in line with the renewed devotion and community spirit.
"It's just such a good feeling to be in this community now," said Wendy Parsons. "We never want to leave."