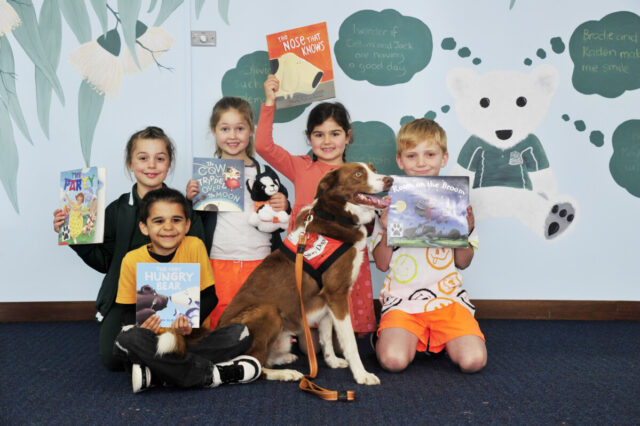 For kids who have difficulty reading, being asked to read aloud can be debilitating.
What's worse, it can cause a negative feedback loop which exacerbates the issue.
According to the widely-referenced Edith Cowan University academic Deslea Konza, "Students with reading difficulties find themselves in a cycle of almost unrelenting failure that ensures an ever-widening gap between them and fluent readers".
Thankfully there's a very effective, very fluffy solution to easing anxiety in young readers at Clifton Hills Primary School.
Each year, 20 lucky Year 2 students get to buddy up with the very lovable Mike to practise reading aloud.
Mike is endlessly patient, never judgmental, and never corrects anyone trying their hardest to sound out the more complicated words on a page. Oh, and Mike is a dog.
Mike and his handler Tanya Maxwell are part of the Story Dogs program.
Story Dogs is a nation-wide initiative which aims to pair students struggling to grasp the concept of reading aloud with a pair of fluffy ears.
Story Dogs volunteers visit the school of their choice every week, same day and same time, for approximately a two-hour block of time.
There are currently 643 dog/owner teams operating at 386 schools around Australia.
Each week approximately 3250 students are helped by the program.
And the results at Clifton Hills Primary are palpable with many students becoming more confident readers since the program began in February 2019.
Although Story Dogs is a volunteer-based program, each pup requires funding of $500 per year – to cover insurance, administration, the purchase of new books and a nifty little orange jacket.
Since 2019, Clifton Hills Primary has been lucky enough to have the Lions Club of Armadale/Kelmscott as benefactors for this program.
But sadly, not every school can afford such an expense. Only 70 percent of all story dogs are currently funded.
So, Clifton Hills Primary's P&C decided to pay forward the generosity of the local Lions Club, by funding dogs for other schools in need.
This year the school community went all out to celebrate and raise money for the Story Dogs program.
On Wednesday last week students dressed in 'Story Dog' orange, and pre-purchased pumpkin soup, orange muffins, story dog plushies, and books, with all profits going back into the program.
Over $1600 was raised which will ensure the program will continue for three other schools.
P&C Vice President Hayley Verbunt said she was thrilled the school was able to give back to a program which has already given so much to the school.
"All of our students care deeply for the program and our resident Story Dogs, Mike and [predecessor] Snooki are like royalty around here," she said.
"And it was so easy to introduce – the program became ingrained in our school so quickly.
"Even though it only directly benefits a small percentage of our school population, our collective efforts prove there's a lot of community spirit behind the program.
"Over a hundred dog plushies were sold, and older students are using them now as emotional support toys in class. Kindy kids are doing story dog paintings.
"I think we underestimated how far its impact reached."
The only caveat to the enthusiasm for Story Dogs is that there are currently just not enough dogs to cover the growing demand for the program.
"Dogs need to be able to sit calmly, even when they have students run up to them. They need to be able to have their ears played with, their mouths pulled. And some kids will even lie on the dogs," she said.
"It's really difficult to find the right dog.
"So, if anyone has a dog they feel would suit the program, we'd love for them to come forward."
Local Story Dogs Area Coordinator Pat Foster said there are currently six local schools wanting to be a part of the program.
"Some … have been on the wait list for two years, and I would love to be contacted by people who may want to volunteer," she said.
Anyone wishing to volunteer themselves and their furry pal can contact Pat at patf@storydogs.org.au