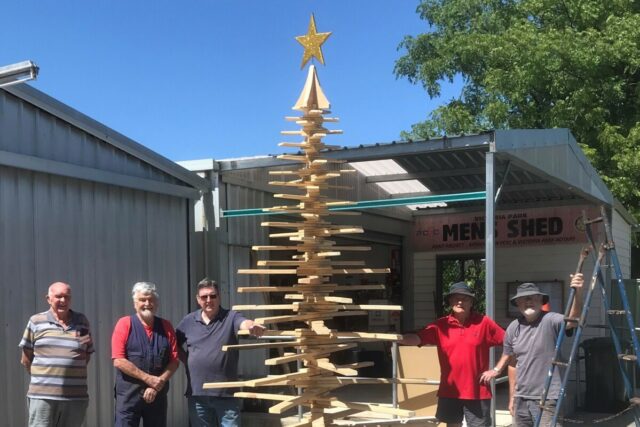 There will be no shortage of things to see and do in Victoria Park this festive season, with a jam-packed calendar of events set to make it a magnet for anyone keen to get into the Christmas spirit.
Kicking things off early, G.O. Edwards Park in Burswood will be transformed into a free Christmas Wonderland on the first day of December, with a snow machine, live band, Christmas choirs, kids' activities, food trucks and the ceremonial lighting of the Victoria Park Christmas tree, constructed by the kind gents at the Victoria Park Men's Shed.
Santa will be coming to Town for Santa's Symphony the next day.
Victoria Park mayor Karen Vernon described the outdoor concert as a great high-profile addition to end-of-year celebrations in the Town.
"We're particularly excited for this large-scale event, for which the Town has partnered with Perth Symphony Orchestra and host, Burswood Park Board," she said.
"Join us for what is sure to be a stellar evening at Burswood Park as some of Perth's premier musicians provide an orchestral soundtrack to your C
ristmas season."
The Victoria Park Library will also be running a Santa sack-worth of Christmas-themed programs throughout the month, while the Etwell Street town centre in East Victoria Park will continue its recent tradition of pop-up performances – with a festive flavour.
"Our community at large are also planning a great range of events and initiatives this year, some of which are being staged with the help of the Town's Community Grants Program," Ms Vernon said.
"Lathlain Primary School will be bringing their popular Christmas Concert back to Rayment Park, and Movies by Burswood will be screening an array of festive films for families to enjoy in the open air.
"The Vic Park Centre for the Arts and Carlisle Collective will also be hosting independent Christmas market stall events.
"Of course, events are just one element of what makes Vic Park a great place to spend some time as you wind down for the year.
"Why not shop local this year and take advantage of the variety of gift stores, quirky boutiques, book stores and fashion and retail outlets, and follow it up with a meal or drink at one of the eateries spanning the length of Albany Highway and beyond?
"See you out there."
For more information on what's happening in the Town of Victoria Park this festive season, visit vicpark.info/unwrap.