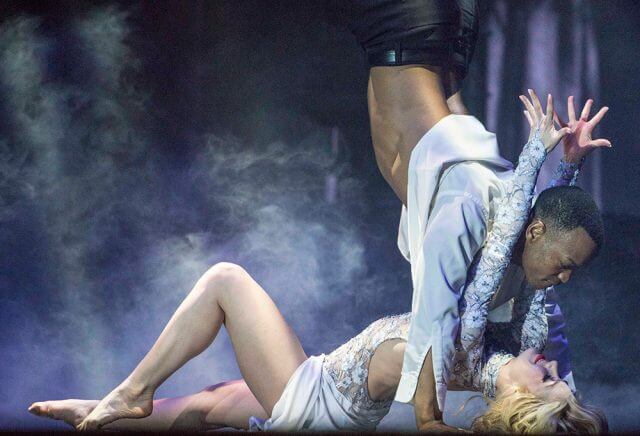 World-renowned ballroom dance spectacular Burn The Floor – Fire in the Ballroom will hit the Regal Theatre stage this week as part of its Australian tour.
Among the hyped up performers will be former Leeming girl Megan Wragg, who has been touring with the dance phenomena for six of its 16 years.
Ms Wragg, 29, has danced her way around the world since 2010 including tours of China, Japan, Hong Kong, America, Australia and South Africa.
She started jazz, tap and ballet at the age of five followed by ballroom and Latin six years later.
Ms Wragg attended Corpus Christi College before moving to Melbourne at 18 and has worked in both Melbourne and Perth as a dance teacher.
She literally landed on her feet with her dance moves, was snapped up by Burn the Floor and hasn't looked back.
"It's my full-time job, I can't really say how many hours I do, we get one day off a week and everything else is to do with the show to be honest," she said.
"My role is more the contemporary softer numbers in the show.
"We do a piece called Kissing You and it is sort of a contemporary waltz.
"For ballroom dancers Burn The Floor is the pinnacle so you can't really be part of a better show.
"It is absolutely my dream to be on Broadway and West End and I hope to get there one day."
Burn the Floor dancers have been dubbed the rebels of ballroom for their take on the form, which breaks the rules while bedazzling the audience.
So popular is the production that four troupes are performing around the world at any one time.
In all, it has been performed in more than 300 cities including an 193-show run on Broadway and two on the West End.
Ms Wragg said shows such as Dancing with the Stars had renewed interest in dancing.
"I'd say it is definitely a ballroom dancing show but not the ballroom you know," she said.
"They call us the rebels of ballroom, like we might be doing a Viennese waltz but it's going to be to With a Little Help from my Friend, so to a rock song or something like that.
"Our costumes are quite different too, probably my favourite one is a black dark sided tutu, which is probably not what people expect from a dance show."
Ms Wragg has no plans to give up living life out of a suitcase and travelling the world.
"I just find it so rewarding to be on stage every night and be appreciated, I love what I do and I find I can really express myself as well," she said.
Burn The Floor – Fire in the Ballroom, which also features two guitarists, two singers and a drummer, will be in Perth from March 23 to April 3.
To book visit tickettek.com.au.