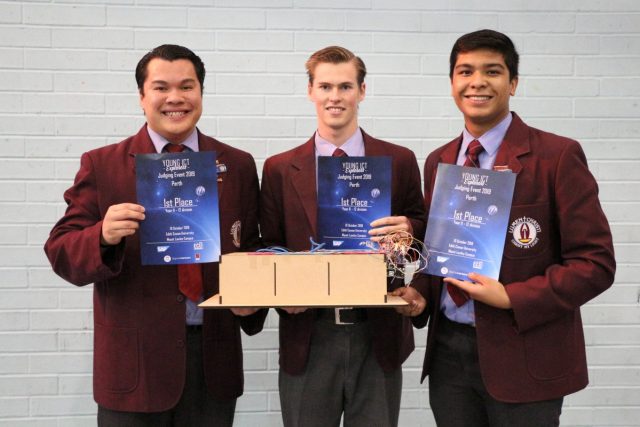 Three boys who developed a system designed to eliminate unnecessary power usage at home have taken out first place at the Young Information and Communication Technology (ICT) Explorers' competition this year.
Lumen Christi College coding and robotics students Zac Rodrigues, Patrick Morton and Patrick Padua will now be representing Western Australia in the finals to be held in Sydney later this year.
Their project 'Prodigy' has the ability to generate statistics on the homeowner's power usage and suggest ways to optimise that power usage.
Eighteen-year-old Patrick Morton said its ability to interpret this data and max
imise efficiency makes it 'smart'.
"We have been developing this system for three years, with 'Prodigy Evolved' being the latest iteration," he said.
"As high school students, receiving first place reassures us that our project has real potential to help people in their efforts to save electricity and for society to live greener until renewable energy becomes mainstream."
Seventeen-year-old Zac Rodrigues said they faced many challenges over the years with coding and efficiency being the first.
"In previous years it was slow and ineffective in giving correct and fast response times," he said. "The first prototype of our product was not completely functional and had various LEDs and ultrasonic sensors that did not function properly."
The boys' newer prototype overcame previous issues by having a small distance between all components connecting to the main computing platform and using a simpler, more refined wiring system.
Even though there were challenges along the way, 18-year-old Patrick Padua said he was happy with the outcome of their project.
"It is really humbling to know that if you put in all your effort, the outcome is worth it," he said.
"I found my passion for coding and robotics back in year eight, when our technology teacher signed our class up to participate in the Hale Connect Science, Technology, Engineering and Mathematics (STEM) Challenge.
"We faced problems with the challenge but the solutions we came across made me realise coding and robotics was extremely powerful in impacting the world for the better, and along with Young ICT Explorers, my passion just grew and grew.
"It is extremely satisfying to know that I can work in a career where I can impact the life of many and enjoy my career."
The school's year 10 team also had a great performance at this year's competition and were awarded third place in the year 9/10 category for their project 'Sentinel'.
The Young ICT Explorers competition was attended by 21 schools from all sectors with 199 students presenting 80 STEM projects.