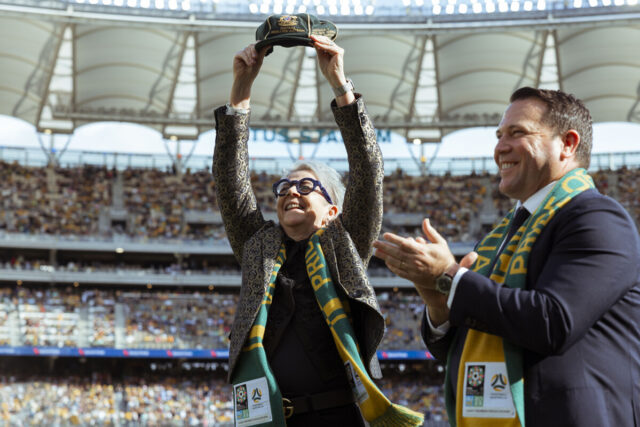 In front of a packed Optus Stadium for the recent Matildas v Philippines match, Gosnells Council employee Maria Hulls received an honour she never thought would come – a coveted baggy green cap and official induction into the Matildas Alumni.
In 1989, Ms Hulls, then known as Maria Doyle, represented the Matildas in the Oceania Cup in Brisbane.
At the time, Matildas team members played in borrowed kit and had to fundraise to pay their own way to the event.
"I never told anyone I played for the Matildas because I had nothing to prove it, no one believed me," she said.
"The biggest thing for me was to be finally recognised, it capped it all off."
Mayor Terresa Lynes congratulated Ms Hulls, who now works as manager development projects and sustainability for the council, on her achievements.
"Maria showed great determination and grit to represent Australia for the Matildas in 1989 and we are grateful to have her on our team at the city today," she said.
"It is fantastic to see women in sport being recognised and celebrated in recent years and the city is proud to support local girls and women in their chosen sports, through the Community Grants Program and by providing quality sports facilities."
Ms Hulls said receiving the baggy green was bittersweet, as her husband and mum did not live to see it, however, the explosion in popularity for the Matildas was unbelievable.
"It was good they didn't cap us 34 years ago or there would have been only one person in the stand!" she joked.
"Back then, I had just moved from a small country town to Adelaide to further my education and I found there was a women's football league, so I put my education on hold to pursue my passion for football.
"In 1988 I represented South Australia at the national championships, and I was selected to the Matildas from there."
Selection in the Matildas team wasn't the first time, nor the last, that Ms Hulls represented Australia.
She was a member of the Australian Women's Futsal Team from 1982 through to 1990, touring the USA, UK, New Zealand and Hong Kong.
She said she still plays socially "at a much slower pace."