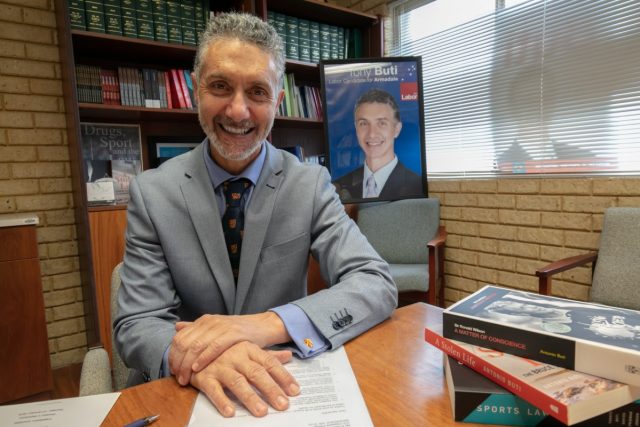 Over the last decade, Member for Armadale Tony Buti has helped the community secure a 24-hour police station and a $22 million TAFE campus, driven policy change and advocated for local schools; but he says his work is far from over.
Last Friday marked 10 years since the long-term resident was elected in the 2010 by-election, winning the seat with more than 57 per cent of the primary vote.
Having been interested in politics since his late teens, Dr Buti said he jumped at the opportunity to represent the community he grew up in – his main motivation to improve educational opportunities for disadvantaged children in Perth's south-east.
"For me, it was about trying to ensure that every child that grew up here didn't have their dreams curtailed," he said.
"I wanted everyone who goes to school to believe that they could achieve whatever they wanted to and broaden their horizons.
"Education has given me so many opportunities that I otherwise would not have had."
It was a challenging six-and-a-half years in opposition before the Labor government took power, but since then he has successfully pushed for the construction of a 24-hour police complex, a fully-fledged TAFE campus and the removal of the Denny Avenue Level Crossing Removal – all of which are now underway.
In that time, Dr Buti has also lobbied to put domestic violence on the political agenda, writing several policy papers and setting up the Ride against Domestic Violence – raising more than $270,000 for women's refuges in the last four years.
The issue is one particuarly prevelant in his own electorate, with Perth's south-east corridor recording among the highest levels of domestic violence in the state.
But Dr Buti said the greatest highlight for him had been advocating for individual people and watching projects come to fruition.
"The most joy you get out of being the local member is that individual person you can help," he said.
"You get criticism, that goes with the job – some is fair, some isn't – but advocating for local people can change their lives.
"I have got to say, even though there is a bad image that is portrayed of our community, there are a lot of people who are very proud to be here.
"There are some socio-economic issues we need to address and levels of disadvantage that have remained a constant – and that's where our schools are incredibly important.
"There is a lot that remains to be done, and don't know if there could be a better job."
The 59-year-old said he still had plenty of goals for his remaining years in politics, including pushing for a fully-fledged university, improved outcomes in local schools, reducing rates of domestic violence and improving the community's spirit.
"We got the TAFE, which is great, but I hope to see a fully-fledged university here in the future and a bigger focus on sports and recreation to improve the health and fitness of the area," he said.
"I'd also like to see Armadale have a more bustling CBD and improved attendance rates in our schools – which are still unacceptable.
"We have achieved a lot more than people probably give us credit for, but I haven't achieved everything that I want to for my community.
"Personally, I'd also like to rise to rank of a Minister."
Dr Buti extended thanks to his wife, as well as staff members Judith Lewis and Tina White for being integral parts of the Armadale team.