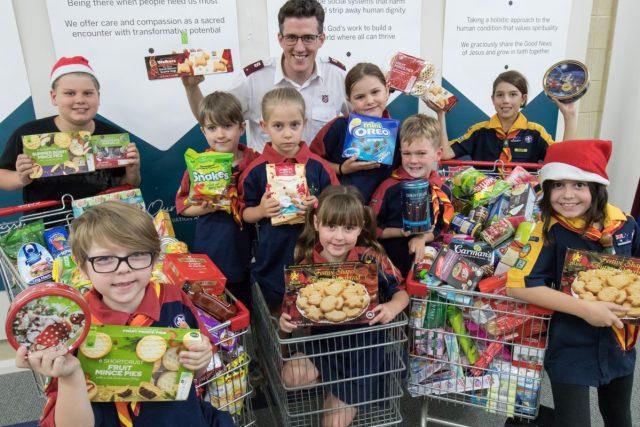 Christmas has come early for a local Salvation Army branch thanks to the efforts of Westfield Scouts Group and hundreds of donations from members of the public. 
The local scouts group held its charity food drive on November 24 out the front of a supermarket in Armadale and within just three hours, a total of three shopping trolleys were filled to the brim with everything from biscuits and cereals to Christmas puddings and toiletries. 
The joeys and cubs delivered the donated goods to Ben Hollis and his team at the Salvation Army Armadale branch last week, which were welcomed with open arms. 
Westfield Scouts Group joey leader Melissa Viney said the group was overwhelmed by the incredible generosity of the community. 
"Our joeys and cubs are aged between six and 11 years of age so as they arrived, they were very nervous and held back from asking for donations," she said.
"We had to explain that some people will say no and that was okay, however by the end of the shift the kids were asking for donations and handing out flyers with new-found confidence." 
Mrs Viney said the charity appeal was the first opportunity for many of the younger members to get out in the community and spread the word about the group. 
"It was very rewarding to see the youth talking to community members and seeing the rewards first hand as the shoppers dropped in food items to the donation boxes from their food shopping," she said.
"It won't be our last year judging by the success of it and the kids are already asking when they can do it again."