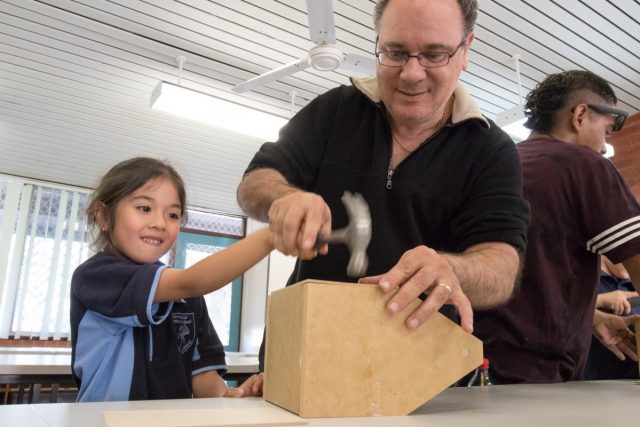 In today's fast-paced world many fathers and their children were given the chance to slow down and interact over a craft activity at a local school. 
Fathers and father figures alike, together with their children from Grovelands Primary, tested their creative skills by building a wooden toolbox last month. 
The free activity was organised in collaboration with The Fathering Project, Parkerville Children and Youth Care and Bunnings. 
The Fathering Project coordinator David Walker said as a father of five himself he knows the joys of teaching his own children practical skills. 
"To attend an activity like this and to have one-to-one time with their dad is really special," he said. "It builds their self esteem and strengthens the relationship between father and son or daughter. 
"Fathers will potentially feel validated through the experience with having an opportunity to transfer their knowledge and practical skills." 
Principal Mark Bradshaw said the activity gave the parents and children the chance to interact away from technology and other distractions. 
"The sense of shared accomplishment combined with one-on-one time is a great thing," he said. 
"I would like to encourage more fathers and father figures to take up this opportunity as The Fathering Project has the potential to have a hugely positive impact on our school community if people get behind it."