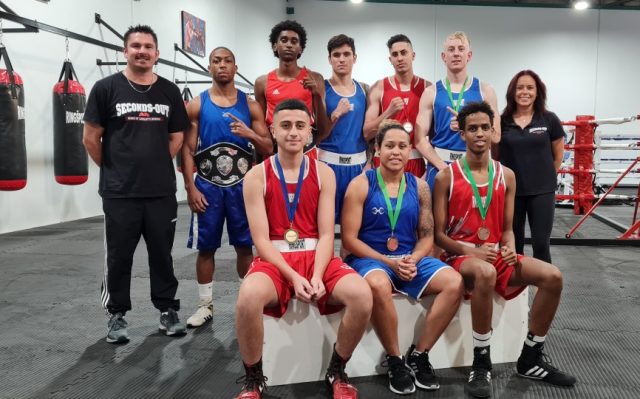 A collection of athletes from across Perth's southern suburbs have produced impressive results on the national stage.
Eight boxers from Seconds Out Cannington travelled to Adelaide's Morphetville Race Course for the 2021 Australian Club Championships, held from April 15 to 17.
The group was accompanied by the gym's co-owners and boxing coaches, James and Lizz Lindley.
Last month's event featured a total of 240 competitors from clubs all over Western Australia and the country.
The team from Seconds Out Cannington went on to claim three gold, one silver, and three bronze medals.
With two consecutive wins, Chichi Omenihu (Southern River) took out the Elite Men's 65-kilogram division title.
Omenihu is now seeking to qualify for the Elite Men's World Championship trials, scheduled for later this year.
Idris Jelle, from Ballajura, secured the Youth 60kg title and was named Youth Boxer of the Tournament.
"For many of these guys, this was their first interstate trip to a competition," Mr Lindley said.
"They were all in good-stead, going into the tournament…and we are really proud of them for their efforts."
The Lindleys and their boxers are now getting ready for the next big tournament – National Golden Gloves 2021.
The gym is looking to send up to 20 boxers to the competition, due to be held in Queensland in August.