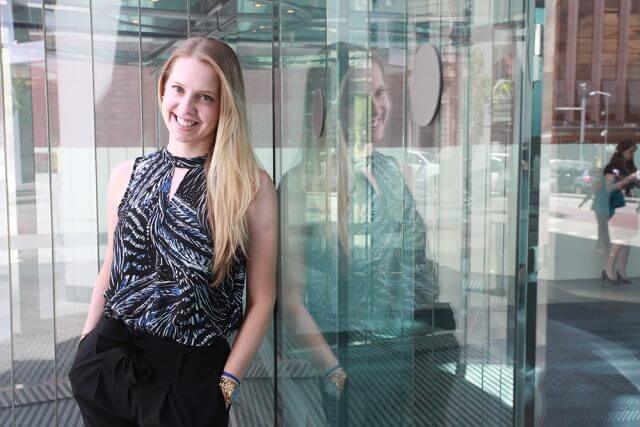 As a fit and healthy 24-year-old, stroke was the last thing on the mind of Kenwick woman Nela Kosec but on Australia day in 2012 that all changed.
As a part of world stroke day on October 29, Ms Kosec told her story to encourage others to be aware of the damage this killer disease can do.
She was on a student exchange studying in Germany and said in the few weeks leading up to her two ischemic strokes she started experiencing major joint problems and temperatures.
She put it down to Germany's cold temperatures but on Australia day decided to go to the hospital where she was told she had mild arthritis and was given ibuprofen to take.
"Around 9pm I took the ibuprofen and about 30 minutes later I felt a lightning bolt hit the left side of my temple and my body went extremely hot," she said.
"I couldn't swallow and I was slurring, I had no control of the left side of my face and the right side of my body felt as if it didn't belong to me.
"I had no idea what was happening but I do remember thinking 'Nela, this is it'.
Ms Kosec, now 27, said her host sister helped her get into bed and she left the window open with snow falling outside but was still uncomfortably hot.
"I left the hospital note, my passport and my parents' contact details next to me, just in case," she said.
"The next morning I tried to get ready for school but couldn't even drink water. I woke my host mum and asked her to take me to the hospital.
"Luckily one of the best neurological clinics is located in Stuttgart so they looked me over, did a few minor tests and confirmed I had two ischemic strokes.
"I then had to call my parents from Germany and let them know what happened.
"I was in intensive care for a week, then in a normal room for another week.
"I had a physio twice a day and everything from MRIs to internal heart scans to a cerebral spinal fluid test."
Ms Kosec returned to Australia two weeks later and was diagnosed with lupus and fibromyalgia.
"My parents later admitted thinking that I wouldn't survive long once they saw me," she said.
She said her life had changed a lot since the strokes.
"I have nerve damage down the right side of my body so have to attend fortnightly physio sessions to help ease the pain," she said.
"It's even worse when I sit and I don't know if it will ever get better. I feel awkward laughing as I can feel the nerves on the left side of my face pulling and it makes me self-conscious.
"I've forgotten some people, events and places.
"Though you get to watch some movies over again, as you don't remember them."
She said she hoped her story would encourage others to educate themselves about stroke so they could act on symptoms early.
"It's the last thing on the mind of a young, healthy person, I didn't even know young people could have it," she said.
"Be aware of your family history in case you have a predisposition to it," she said.
"Research causes of stroke and eliminate those from your body.
"I still do not know what exactly caused my stroke but I wear my stroke solidarity string every day as a reminder of how lucky I am."
Women at risk of stroke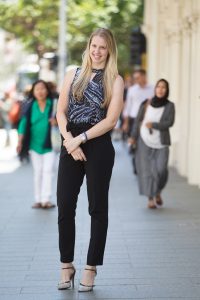 The world stroke organisation (WSO) highlighted the risks to women from stroke on world stroke day last week.
In 2013, 6368 women were killed by stroke in comparison to 4181 men.
Working aged women were among those hardest hit with stroke, the fifth leading cause of death of women aged 45 to 64 years.
In the federal electorates of Tangney, Hasluck, Canning and Swan there were 5223 women who had survived stroke.
In the same area in 2014, 638 women experienced a stroke.
National stroke foundation chief executive and WSO board member responsible for the campaign Dr Erin Lalor said one in five women and one in six men globally would experience a stroke in their lifetime.
"Too many women are dying every year from stroke,­ a largely preventable disease," she said.
"Mothers, sisters and friends lives could be saved by knowledge of their stroke risk, making simple lifestyle changes or treating chronic conditions such as blood pressure.
"Other than their longer life expectancy, research shows women have an increased burden of major stroke risk factors including high blood pressure, irregular heartbeat, diabetes, depression and obesity."
WSO president Professor Stephen Davis echoed Dr Lalor's comments.
"Specific risk factors and settings in women include pregnancy, the post-partum period and some hormonal replacement therapies," he said.
"Some kinds of stroke, such as aneurysmal subarachnoid haemorrhage and cerebral venous thrombosis, are more common in women."
A stroke happens when the blood supply to part of a person's brain is cut off.
Without blood, brain cells can be damaged or die and this damage could have different effects, depending on where it happened in the brain.
Visit www.worldstrokecampaign.org or www.strokefoundation.com.au.