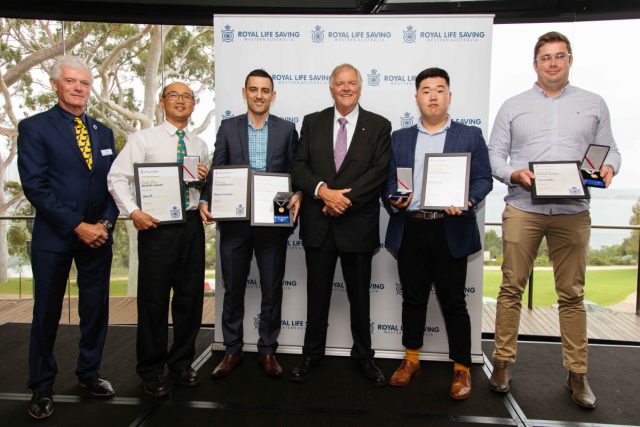 A Bravery Award has been presented to Riverton Leisureplex staff for their actions in reviving a patron who suffered a heart attack in the 50m pool earlier this year.
Staff received the recognition at the Royal Life Saving Bravery Awards recently.
In April, Riverton Leisureplex staff were alerted to an unconscious swimmer in the 50m pool.
With the assistance of patrons and staff, pool operator Patrick Allin removed the man from the water and was joined by patron, Julie Waddilove and lifeguard Joseph Baeg.
After finding the man non-responsive, the group performed Cardiopulmonary Resuscitation (CPR).
Leader of Leisure Michael Gosatti arrived at the scene and immediately setup and applied the defibrillator to the patron.
Lifeguard Kevin Ho cleared the pools and arrived at the scene and took over compressions.
The man was successfully revived after the defibrillator was administered.
The Royal Life Saving Society presented Mr Allin, Mr Baeg, Mr Ho and Mr Gosatti with the Gold Star Bravery Award and Ms Waddilove with the Gold Medallion Bravery Award.
The awards ceremony recognises and acknowledges the efforts and actions of people within the community who have performed a rescue and/or resuscitation.
Canning chief executive officer Arthur Kyron said that the aquatics staff should be commended for their actions.
"By reacting quickly and working collaboratively the Riverton Leisureplex staff saved a patron's life," he said.
"There were a number of other staff who supported the emergency response and they will also be recognised with a Bravery Commendation.
"Everyone should be incredibly proud of how they put their skills into action and handled the situation in such a prompt, professional and life changing manner."
Six months after the incident the patron has fully recovered and the aquatics staff continue to maintain contact with the patron to ensure his wellbeing.