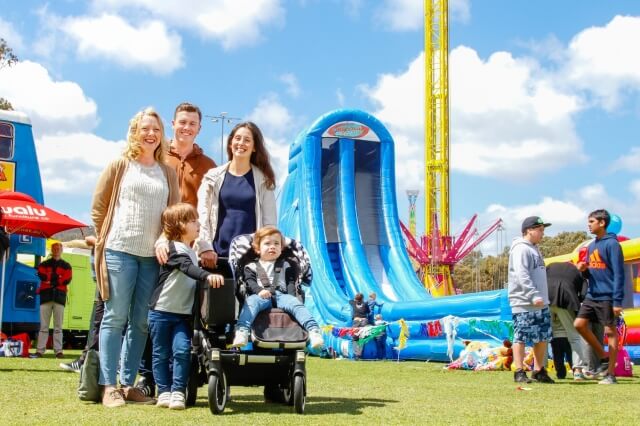 Bump-in is well underway for this weekend's 124th Kelmscott Agricultural Show – the city show with a country feel.
This weekend, the region's best produce and art and craft will be on display at the Exhibition Hall and Flower Pavilion.
Children from the district's primary schools have also been putting the finishing touches on their displays, available to view in the Schools Pavilion.
The Progressive Axemen's Association of WA will show their log-chopping prowess.
And there'll be live music and roaming entertainment from 5pm.
And kids will have their own special interactive zone, with activities designed to stimulate their senses, including the newly-purchased funky monkey bars.
Friday's excitement will culminate in the City of Armadale's fireworks spectacular from 8.30pm. Pet owners in neighbouring suburbs are advised to take precautions to minimise distress.
Then on Saturday it's the animals' time to shine. See if you can pick which goat, cow, sheep, donkey, alpaca or chook will get the coveted Best In Show sash.
Peruse a range of market and food stalls along the Canning River, with a variety of children's rides including camel and pony rides conveniently located close by.
And there'll be tables, stalls and demonstrations by a host of local groups and organisations.
If you're a green thumb, or an aspiring gardener, you'll be able to participate in a number of gardening workshops. The Garden Gurus will also be making an appearance on Saturday to film a segment for their show.
Of course, the regular show favourites will be there; you can get your hands on a feast of showbags from Sideshow Alley, and jump on a dodgem car or ferris wheel, or try your hand at winning a giant plushy.
And there'll be local food trucks offering Italian, Greek, Thai, German, Moroccan, Japanese, Spuds, Roast, American BBQ, Churros, Crepes, Gelati, Pizza, Chips on a Stick and so much more.
Kelmscott Agricultural Society president Daryl Dawes said he hopes this year's show is as well-attended and enjoyable as last year's.
"Putting on the Kelmscott Agricultural Show is a year-round activity for our volunteers. I thank the Show Management Committee of the Kelmscott Agricultural Society for their hard work throughout the year. I also would like to thank the many volunteers from the community who come together for show week to assist our team in getting the Show grounds ready for action and who work tirelessly during the Show in the pavilions and across the show. Volunteering is the lifeblood of our society, and the show just wouldn't be able to go on without the countless hours that are put in for the betterment of our local community," he said.
Gates open from 4.30pm on Friday until 9.30pm, and from 9am to 6pm on Saturday. The Show is located at the Rushton Park Showgrounds, corner of River Road and Orlando Street in Kelmscott.
Tickets are available at the gate, but you can save money with discounted online tickets at https://www.kelmscottshow.com.au/show/