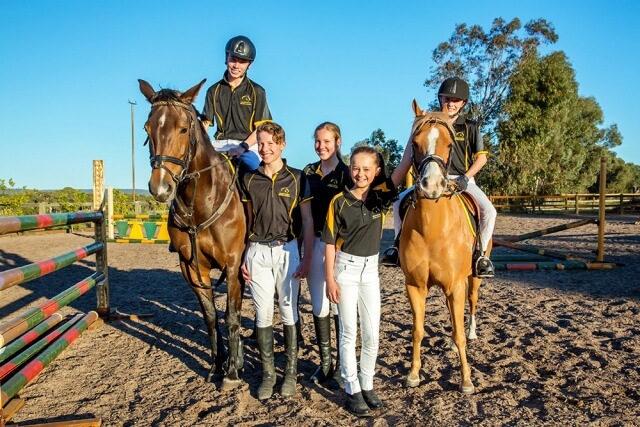 The Shire of Serpentine Jarrahdale will be well represented at this year's National Interschool Equestrian Championships with five students selected to compete for WA.
Darling Downs residents Breanna Possingham, 13, and Angus Fraser, 14, will join Byford resident Alyssa Hattingh, 11, and Oakford siblings Angus, 14, and Ailish Donovan, 10, at the Sydney International Equestrian Centre to compete in jumping next month.
Angus Donovan said the group had been competing together for a long time and he was proud to see them progress to national levels.
"We always compete together and from my perspective I'm really proud of us as a team," he said.
To think that we have progressed over the years to get to the level that we're at is good and I think we've done a pretty good job."
He said horse riding and show jumping in particular were good sports to be part of because it rewarded hard work.
"Horse riding teaches a partnership and with show jumping there's never someone who is always on top," he said.
Alyssa said while she was nervous going into the competition she was excited to have been selected.
"I felt very excited because it's my first ever interschool and most people don't even get a place their first time but I qualified for nationals," she said.
Breanna said this would be her second national competition and she was looking forward to reaching bigger heights this year.
The competition will run from September 26 to September 30.
The team were also hoping to raise money to help them transport their horses to Sydney for the competition and will hold a quiz night at the weekend as part of their efforts.
Darren Dawes will MC the event, which will include a DJ, live auction, silent auction and door prize.
The fundraiser will be held at Byford Hall at the corner of Clifton Street and South Western Highway on Saturday with the doors opening at 6pm for a 7pm start.
Tickets are $20 per person with 10 people to a table.
To book call Bec Donovan on 0409 881 098, Lisa Possingham on 0418 954 165 or Louise Fraser on 0418 947 703.
Donations can also be made searching WA interschool equestrian riders at mycause.com.au.