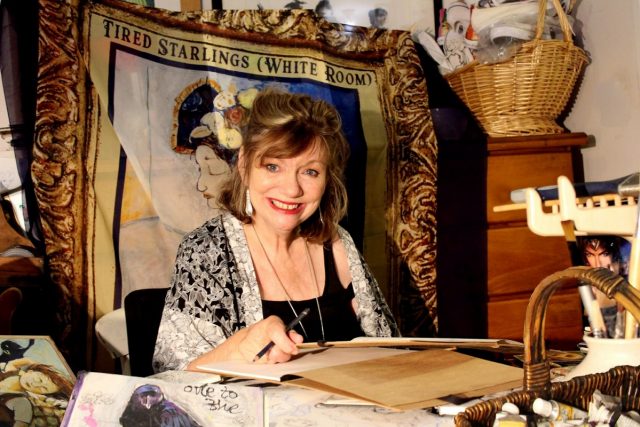 The Festival Artist title from the Armadale Arts Festival Artist Panel has been awarded to a local artist who has been formally recognised for her contribution to the arts and arts practise.
Julie Fearns-Pheasant was honoured with the recognition, which will see her take the reins as an official ambassador at for the City of Armadale's annual Arts Festival.
As a child Ms Fearns-Pheasant arrived in Armadale with her family when they migrated, she returned to Armadale in the late 1990s to settle in the area with her own family.
Following her return, Ms Fearns-Pheasant has assisted the City of Armadale in developing some of its most cherished arts initiatives including the Minnawarra Art Awards and Outside the Frame.
Ms Fearns-Pheasant said that her contribution being recognised as worthwhile made her feel extremely honoured.
"My experience with the art world began at a very early age and I cannot honestly remember a time without it," she said.
"As a child it was my first joy, as a teen, my comfort, and as an adult it is my essence.
"I feel incomplete and half a person when I cannot create."
As an educator with a Masters Degree in Cross-Disciplinary Arts, Ms Fearns-Pheasant is excited to present a series of workshops at the Arts Festival.
Ms Fearns-Pheasant said the theme of the workshops 'My Story, Your Story' was inspired by the city prompting her to highlight the youth in the area.
"I have been given the opportunity to not only exhibit myself but to develop a body of work that involves young people of the community," she said.
"I was asked to design a project that not only highlighted the worth of art and creativity for our city, but to give our youth a visual way to illustrate about themselves.
"It feels great that I get to work with three of my passions all in one; art, education and community."
Ms Fearns-Pheasant said that she hopes that one day the arts is recognised as one of Armadale's essential identities.
"We have so many creative people in the arts, with so many positive, active happenings and opportunities happening in our region, in our city.
"I hope one day that the arts is recognised as one of Armadale's essential identities.
"As an art educator of the young, I would love the Arts in Armadale to be part of the regular curriculum, where local schools would reach out and work with all the available talent here.
"It's overflowing and waiting to be uncovered."