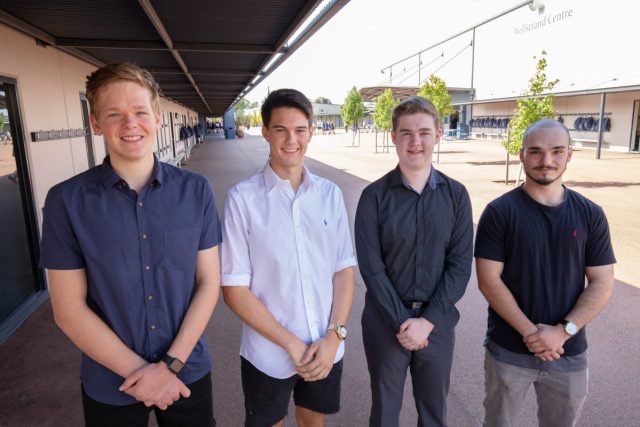 The studious efforts of four close mates were recognised at an assembly last week as Court Grammar School inducted the graduates into the prestigious 90s club.
Last year's graduates Max Denholm, Joel Braovich, Kyle Benbow and Reuben Jeffreys all received an Australian Tertiary Admission Rank (ATAR) score of 90 and above in their examinations.
Their fellow peers also received great results with 10 out of the 16 students who studied ATAR at Court Grammar last year achieving a result of 70 and above, placing them in the top 30 per cent of all ATAR students in the state.
Head of secondary Brad Krokosz said last year's cohort produced the highest scores in the history of the school.
"I would like to acknowledge the determination and discipline shown by our students in pursuing such an achievement," he said.
"I would also like to thank the teachers for providing support, engaging learning opportunities and inspiration."
Max Denholm's parents Bill and Michelle said they believe their son's excellent chart-topping result of 96.8 per cent reflects the study he did in preparation for his examinations.
"Max has always achieved good results all through his schooling years," they said.
"Whatever occupation or pursuit he does, we hope he enjoys it as this will reflect in his success."
Mr and Mrs Denholm said the friendships these boys developed and their teamwork helped them achieve their remarkable results.
"We would also like to congratulate all the other students in the Serpentine Jarrahdale shire as many achieved outstanding results," they said.
Max said he is relieved that all his hard work paid off and he looks forward to pursing further study this year at the University of Western Australia, where he will study a Bachelor of Biomedical Science, double majoring in Biochemistry and Molecular Biology and Pathology and Laboratory Medicine.
The school's 2019 ATAR students will be invited back to the school throughout this year to engage in mentoring opportunities with the year eight academically talented students.