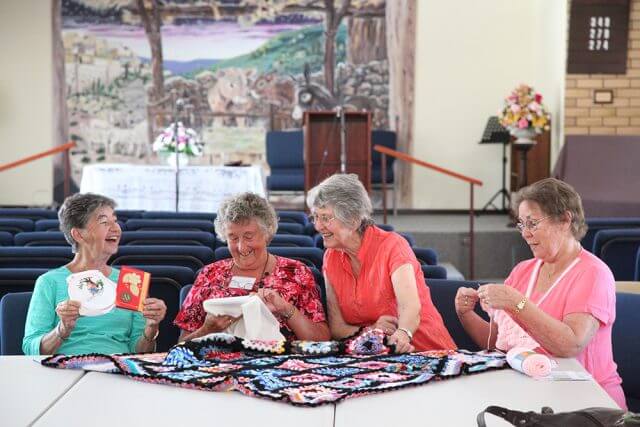 The Heritage Craft Group ladies don't just sew blankets together for charity they also stitch together friendships.
The women meet every Wednesday to teach each other craft activities like knitting, quilting, card making, painting, crosswords and, importantly, talking.
They also pride themselves on their charity work making blankets and toiletry bags for the homeless and gift shoeboxes for the less fortunate.
Recently the group donated blankets to the victims of the Esperance bushfires and raised more than $600 for bushfire victims, Barnabas Aid fund and breast cancer research.
Group member Marg Smith said the group was a fun mix of women who liked crafts but liked socialising that little bit more.
"We do a wide variety of crafts," she said. "If someone knows how to do something and someone wants to learn how we share that.
"We classify talking as a craft and talking is top of the list."
Group member May Bennett said the group was very welcoming and therapeutic for some women.
"Two or three people have come in feeling down and after about six months they're really happy," she said.
"It's very therapeutic, everybody has a problem and we do share our problems."
The group costs $2 every Wednesday, which goes into a tin and is eventually donated to a charity.
They meet at the Heritage Christian Church, 26 Champion Drive, Armadale on Wednesdays from 9.15am to 11.30am.
Anyone who would like to join the group can call Ms Bennett on 9399 4168.