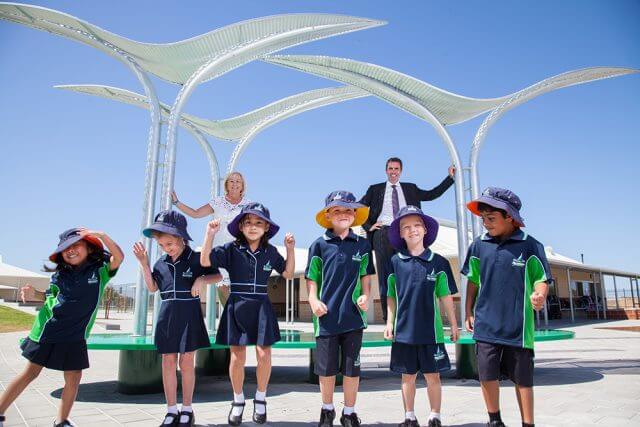 Harrisdale Primary School has hit the ground running in its foundation year after officially opening on Tuesday for an already at capacity 518 kindergarten to year six student cohort.
Education Minister Peter Collier officially opened the much needed $15.2 million independent public school, which will service families in booming Harrisdale.
The school included an inclusive classroom for students with special needs, an art and craft room, library resource centre, music room, covered assembly area and canteen, dental therapy centre, multi-purpose hard courts, a junior oval and cricket nets.
School principal Karen Duncan said she was really excited the school was finally open and it would become a community hub.
"In a community like this that's so big and growing every day the school becomes the hub," she said.
"Opening the school means the community has a focal point, a place they can support and take their kids to, education and realise their dreams for their families."
She said the school would be a great environment for learning.
"It's a beautiful school, one of the things the architects have done well is create lots of boulevards of trees," she said.
"So whilst at the moment they haven't matured you can imagine in a couple of years time there will be this canopy of lots of trees providing lots of shade.
"Being a new school we've put in state of the art facilities, iPads in our early childhood, Mac books in our older classes.
"Every class has a projector that projects onto a whiteboard, that whiteboard then becomes interactive."
Ms Duncan said the school would be digitally focused and hoped to move down the science and environment path.
Mr Collier said the school would ease enrolment pressures on neighbouring schools like Piara Waters.
"The modern facilities cater for the needs and aspirations of all local families, and high-quality and innovative teachers are supporting every student to reach their potential," he said.
The school neighbours the new Harrisdale sporting complex and Harrisdale Senior High School expected to open in 2017.
Harrisdale was one of four new primary schools that opened this year.
Alkimos Primary School, Anne Hamersley Primary School in Ellenbrook and Rivergums Primary School in Baldivis were also opened.