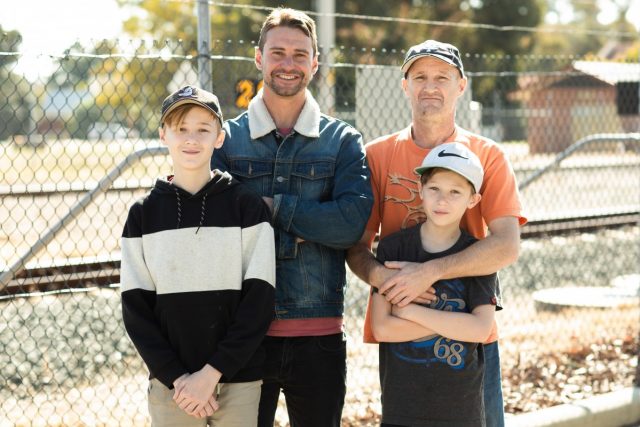 More than two years after filming began, the stories of the brave Armadale men determined to break the cycle of intergenerational trauma are set to hit the big screen.
The 27-minute documentary, written and directed by filmmaker Joshua Lee, follows a group of men navigating parenthood with the help of 'The Fathering Project' – the nation's first preventative program for fathers considered to be at-risk.
The not-for-profit initiative was founded in WA, focusing primarily on single fathers living and working in the City of Armadale.
Having been raised by a single parent in a low-socio economic area of Perth, Mr Lee said the striking parallels between his own story and that of many of the families involved drew him to the project.
From the outset, Mr Lee said it became apparent that he was entering a community with deep trauma and issues that needed to be explored.
"On the first day of filming I met lead character Traverse, who invited me to wander the streets of Armadale with him," he said.
"While discussing his desire to become a better father, we came across a young man who had recently lost custody of his child.
"We heard harrowing stories and the interactions between the fathers were really beautiful and compassionate.
"It became apparent from the outset that we were entering a community with deep trauma and highlighting an issue that needed to be explored."
According to Mr Lee, what began as a documentary research project soon became a quest to highlight the need for more support.
"I realised that what we were about to do needed to be done and was really important," he said.
"As a medium, I think that documentary and film has the ability to explore nuances and complex issues in depth.
"It has the power to shift people's perspective and instigate change.
"I wanted to understand why statistics around suicide, depression, addiction and incarceration were skewed so heavily in favour of men with similar backgrounds.
"I persisted with the project because I believe there should be support for all fathers, but particularly single fathers and those who didn't have role models themselves.
"I feel really privileged to tell this story and hope it will resonate with many people in the community."
Mr Lee said he hoped the film would help to advocate for financial support for 'The Fathering Project' initiative and broaden the conversation around masculinity and fatherhood.
The documentary will be aired on ABC1 from 6.30pm on Sunday, July 12.