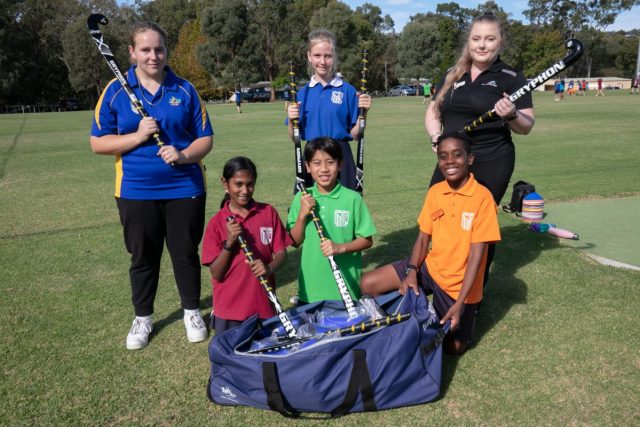 Grant funding has allowed a local hockey club the opportunity to increase and sustain long-term involvement in the sport and reduce lower participation rates.
A spokesperson from the Dale Hockey Club said they received a Community Grant of $2050 from the City of Armadale to increase their visibility within the community.
"Our initiative with our Hooking Into Our Community project is to grow our sport of hockey within our local community and the City of Armadale," she said.
"Increasing our visibility within our community, providing a safe and welcoming place where people feel accepted and giving members of our community an opportunity to participate in this wonderful sport, regardless of their hockey skills."
The club said that hockey is a healthy, fun and safe sport that can be offered to many families.
"We at Dale Hockey Club want to promote a community friendly club where players and their families are welcome no matter how much experience they may have, with hockey," the spokesperson said.
The grant has been used to purchase hockey kits, which consist of 30 sticks and balls, to be donated to local schools including Kelmscott Primary School, Challis Primary School and Westfield Park Primary School.
According to Dale Hockey, each of these schools will be offered three one hour hockey clinics, conducted by Coaches from Hockey WA.
"We have also offered teachers at these schools an opportunity to attend coaching workshops," the spokesperson said.
"Part of our funding was utilised to hold a coaching clinic and high tea event at our club during March.
"This event called the HHH entailed a Hands On Coaching Clinic, hockey scratch match and high tea.
"This was open to all members of our community."
Dale Hockey has been in close contact with members of the City of Armadale council over the last few years.
"They have been trying to assist us in growing as a club and this was seen as an opportunity for us to be able to gain some assistance," she said.
"There were certain criteria that we had to meet to be eligible for the grant, and we also had to give the City of Armadale an idea of how we would use the grant to give back to the community, all of which was included in the application."
Mayor Ruth Butterfield said the city is pleased to provide assistance to the Dale Hockey Club.
"We are really lucky to have so many local sporting clubs who are striving to increase and sustain long term involvement in their chosen sport.
"The Dale Hockey Club has looked beyond the needs of its own members and used part of its funding to provide equipment to local schools with the view to spark further interest and increased participation.
"While our funding pool is limited, we do our best to assist as many organisations located within the city as possible throughout the year with these grants, which in turn benefits the wider community."