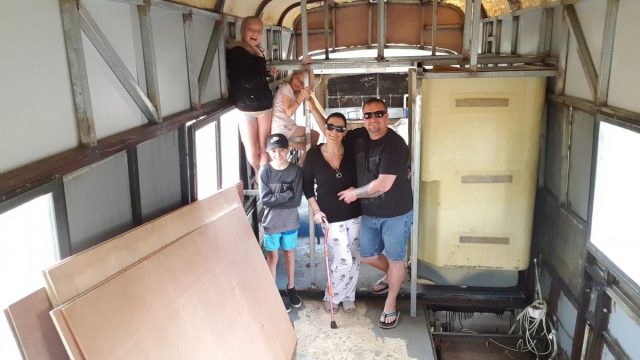 A Byford family of five are counting down the days until they can set off in their beloved bus 'Chugga Chugga' but there are a few things standing in their way. 
Firstly the bus is not moving. It is a shell, still needing nearly everything imaginable to house a family full time. 
However the most important hurdle is the health of their 39-year-old mother Rachel Hayden who has been diagnosed with an inoperable brain tumour. 
For more than a year Mrs Hayden has been suffering with double vision, dizziness, seizures, blackouts, paralysis and blocked hearing, which has led to her husband, Andrew, having to give up work and look after her and the family's three children full time.
With no work, little financial support and mounting bills the family are being forced to sell their homes to pay for an operation with Australian neurosurgeon Charlie Teo, which could change her quality of life forever. 
"The doctors here said to me 'we don't know what to do, so we are going to send you home but by the way you have got this thing in your brain but don't worry about it'. 
"Dr Teo said he would do the surgery the very next day, once we have got the money while no one here is willing to touch it (the surgery)," Mrs Hayden said. 
The family need to raise $100,000 for the surgery and the sale of the family's near-new Byford home and their house in Maddington is the only foreseeable way to do it.
A local real estate agent has offered to sell the property for no charge and a number of trades and services have completed necessary works to make the home stand out in today's market. 
Meanwhile Rachel's day-to-day condition continues to worsen while Andrew is hard at work getting the bus fit for the family to live in. 
Mrs Hayden said the family were extremely excited to hit the road. 
"We think it will be a good lifestyle for the kids and they really can't wait," she said. 
"They will be able to enjoy nature and see so much more than the average child will see."