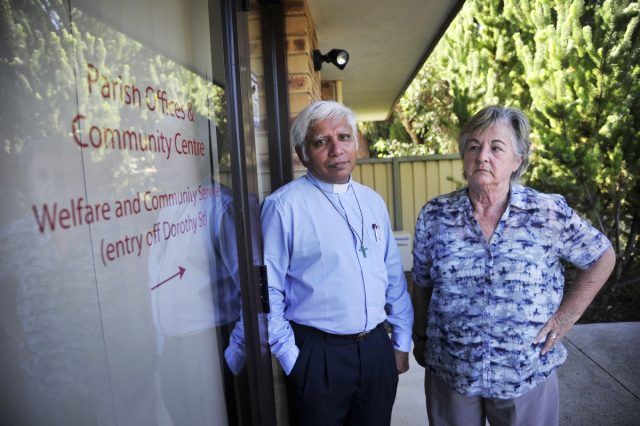 The latest Federal funding cuts will have a deep and direct effect on needy local families, according to local church leaders who are currently "devastated."
The All Saints Anglican Church in Gosnells has been a major provider of food and emergency relief items, most donated by parishioners and residents, for many years.
Yet that has hit a major obstacle, with the church's application for Federal Government funding being unsuccessful. A cut of $5000 in Lotterywest funding during the Christmas period has only deepened the impact.
The church's welfare program manager Dale Pekel – whose work was recently recognised this year with a Burt Volunteer Award – said the church was devastated by the news.
"We have many parishioners on pensions who always bring food necessities to church each week, but with cost of living increases they are doing it tough at present too," she said.
"Thanks to their generosity and with some funding from Lotterywest, we will still be able to provide hampers for a limited number of needy families this Christmas," she said.
The call for support comes as the Federal Government faces a backlash for its announced cuts to more national welfare programs, such as Foodbank, which according to the charity, feeds 710,000 Australians a month.
Foodbank WA CEO Greg Hebble said the cuts were especially shocking given that Christmas is six weeks away.
"There's no doubt that the latest funding cuts will directly impact our ability to supply essential products such as baked beans, spaghetti, canned vegetables, fruit, pasta and rice that are needed all year around," he said.
"I just can't understand why this is happening, especially ahead of one of our busiest times of the year, when we are expecting to provide more than one million meals to vulnerable West Australians throughout the festive season."
Ms Pekel said people from outside the church had stepped up to help in the past.
"We remember two teenagers who brought a car boot load of food to church, having spent their Christmas money rather than spend it on presents," she said. "Maggie's Pantry is named in memory the late Rev Maggie Ward who initiated the annual event many years ago.
"This year's Maggie's Pantry is on Sunday, December 9 at 31 Heronwood Glade, Harrisdale from 1 to 4pm. Food items can be delivered to the parish centre on the corner of Dorothy and Hicks Street, Gosnells."
"Those wishing to help can ring the parish centre on 9490 1971."