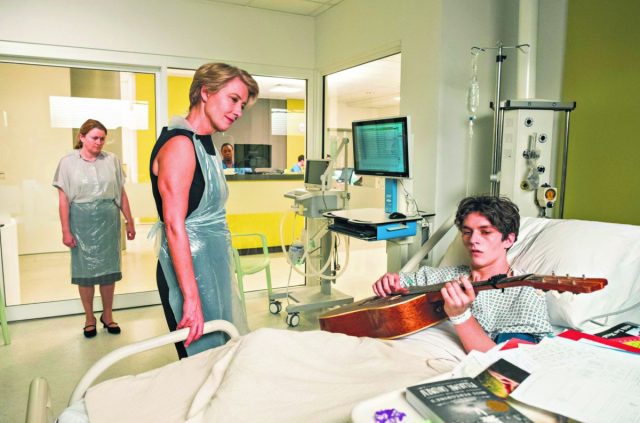 A 17-year-old boy must tow the ultimate line between life and death as he weighs up a life-changing decision in The Children Act. 
Adam Henry (Fionn Whitehead) has been diagnosed with cancer and must accept a blood transfusion otherwise he will die. 
However Adam and his family refuse the transfusion on religious grounds, as accepting someone else's blood is against their Jehovah Witness faith. 
Upon hearing about the case eminent High Court judge Fiona Maye (Emma Thompson) steps into action and listens to all sides of the story including that of Adam's parents Kevin and Naomi (Ben Chaplin and Eileen Walsh) and the hospital staff. 
She then makes the unorthodox decision to visit Adam's bedside to see for herself the extent to which Adam understands the consequences of refusing the transfusion. 
Despite juggling a personal fight of her own with the breakdown of her marriage to American professor Jack (Stanley Tucci), Fiona throws herself at the case, seeking opportunity to connect with Adam, including a spur-of-the-moment performance of William Butler Yeats poem Down by the Salley Gardens with Adam in hospital. 
A moving performance by the star-studded cast with strong emotions that will stay with you long after the credits have finished. 
The drama is a true credit to director Richard Eyre and Ian McEwan the author of The Children Act. 
Rating: 4 out of 5 stars 
Rated: M 
Distributed by: Roadshow 
Release date: November 22