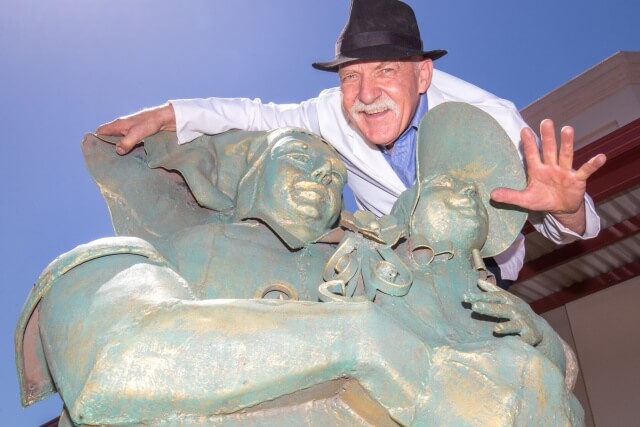 A new sculpture depicting the 1944 Byford Child Health Clinic Sister Wossley holding a toddler was installed on South Western Highway in Byford on November 23.
Created by internationally renowned artist Len Zuks for the Byford Progress Association the sculpture was inspired from a photograph given to the association for its book Byford – A Pictorial History 1903-2002.
Mr Zuks, who has more than 20 years experience as an artist said it took him nine months to create the sculpture.
"She looks beautiful," he said.
"When I was making her sometimes I'd turn around and get a bit of a fright when I saw her because she seemed so real.
"That is the sense she evokes, she is larger than life."
Association president Colleen Rankin said the sculpture was marvellous.
"Definitely one of my favourites," she said.
"Len's quirky sculptures appeal to most people and we have lots of travellers stopping for selfies or to allow children to climb over them."
Ms Rankin said she was unable to find the first name of the nurse as nobody would have dared to call her by her Christian name but through her research into Byford history she did find out the name of the toddler.
"The little girl is Laurel Phillips," she said.
"Laurel was around the district until recently."
Mrs Rankin said the sculpture also showed a pride and a love for the Byford area.
"About four years ago we identified the works that showed our history," she said.
"Through the sculpture we have done that."