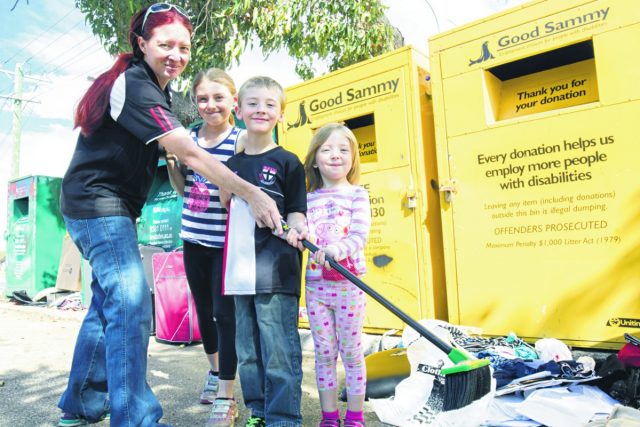 Household rubbish and empty bottles of alcohol were lying amongst valued donations, which were scattered outside of the charity bins on South Western Highway in Byford last week.
The items were found by Byford mother Naomi Haddrill and her children as she stopped to make a donation of her own on April 17.
Mrs Haddrill said the locks on many of the bins had been broken and there was no excuse for the mess as the charity bins were not full.
"When we parked my kids said to me 'it's a mess and we should clean it up'," she said.
"We went into Vibe service station and asked for a broom to sweep up the glass and they gave me their bin key to clear away the rubbish."
Mrs Haddrill said she had spoken to staff at Vibe who said they had seen people rummaging through the charity bins on the weekend, but unfortunately the security cameras weren't positioned to obtain the registration plates of the vehicles.
The charity bins, which belong to Good Samaritan Industries and the Spine and Limb Foundation Inc, are set up to accept donations of clothing, linen and non-breakable goods, however items such as an ensemble single bed, cabinets, a desk chair and suitcases were also seen dumped outside of the bins at the site last week.