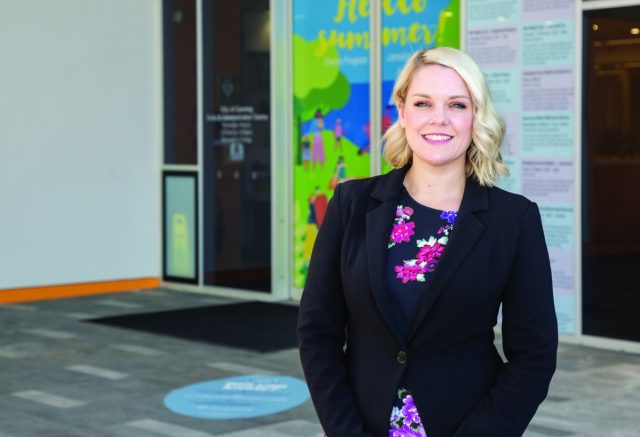 After having worked for more than 13 years in leadership roles across a range of industries, Jemma Greene's hard work has paid off.
Ms Greene is now one of four state finalists in the 2020 Telstra Women's Business Awards in the public sector and academia category.
Not only did she work tirelessly over the years, she was also appointed as the City of Canning and Western Australia's first chief innovation officer in 2017.
Ms Greene was nominated for her outstanding work driving innovation in the city and the community.
She considers her role a job of the future, supporting government officers through the rapidly accelerating change in technology current generations are experiencing.
"To have an opportunity to support our leadership to deliver forward thinking and innovative solutions is a career opportunity I knew I wanted to pursue," she said.
"I aim to inspire other women to embrace challenging leadership roles and acknowledge their contribution in delivering positive outcomes for our communities.
"To be recognised as a state finalist alongside three other incredible women in our sector has already rewarded my passion and ongoing commitment to drive change.
"I feel proud to work for an organisation that was bold enough to create this new role back in 2017 therefore to win this award would validate the visionary leadership within our city."
Since becoming an innovation chief officer, Ms Greene has already been involved in a number of projects including the Switch innovation program with Curtin University, partnering with a Harvard University technology entrepreneur and helping the city to be awarded $1.09 million in Federal Smart Cities and Suburbs Funding to deliver the Next Generation Community Park in the Canning City Centre.
"People have different levels of confidence in innovation and therefore being able to increase the innovation capability of government officers through these types of initiatives is rewarding," she said.
Ms Greene said she will continue to work hard in 2020 and will continue to help the city deliver projects that aim to improve livability, sustainability and productivity.
The awards evening will take place on March 31 and Ms Greene will join 23 other finalists from around the state.
On that night there will be five award winners chosen who will then go in the running for the national awards.