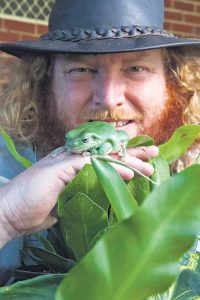 While reptiles might not be the cuddliest of creatures wildlife expert Bradley Holland believes they are cute in their own way and wants to break the stigma surrounding them at the 2015 reptile expo this Sunday.
Mr Holland, who also educates children on native wildlife as Ranger Red, said the expo would help get the message out that reptiles should be respected and not hated.
"It's very much educational based and getting the message out there," he said.
"It's doing a very big turnaround, especially from when I was a kid.
"I get a lot more call outs now for people when they have venomous reptiles in their backyard.
"So we're finally turning people around from that old adage the only good snake is a dead snake."
Mr Holland said people would also be able to get information on keeping reptiles at home.
"It's about conservation education and education for animals that people might be looking at setting in a home," he said.
"A lot of people probably don't realise but pet reptile keeping is very popular.
"Especially because of the fact with high density living you can have a pet reptile and of course it doesn't bark like a dog and it doesn't leave feathers like a bird."
The WA herpetological society will be hosting the expo.
There will be reptile displays, animals for sale, activities for children and presentations by experts.
Other native animals will be on show including a display from the WA dingo association.
The event will run from 9am to 5pm on July 26 at the Cannington exhibition centre on the corner of Albany Highway and Station Street.
Admission is $5 adults and $3 for children under 12.