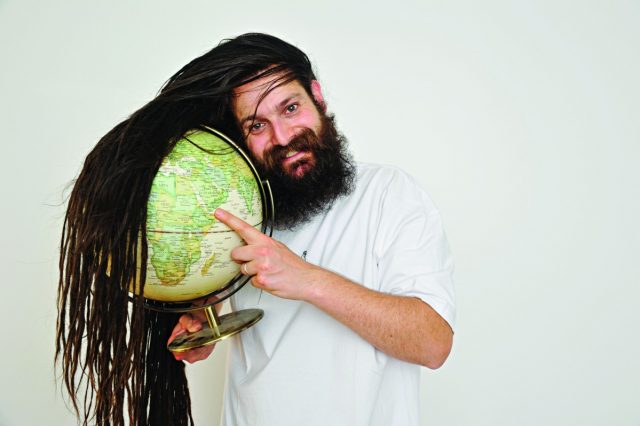 Murray Webb's mum always used to tell him he was going to go bald by the time he was 20.
Now on the verge of 30, it's clear Murray's mum got it wrong, as he prepares to get rid of a decade-and-a-half of hair growth for charity.
To understand just how momentous this will be for the Wilson local, who was born and raised in Willetton, it's important to consider the facts.
Murray has been growing his hair since he was 15 and, in that time, he estimates he's washed it less than 30 times.
In fact, the last time he washed his approximately 182 dreadlocks were just before his wedding – in 2016.
"I wouldn't say my wife is a fan of them, but she's very accepting.
"She's excited to see what I'll look like without them, it will be like a new husband, husband 2.0, a crack at another version of me."
The impetus behind Murray's massive change is his work with Compassion WA, a not-for-profit charity that works with children living in poverty, and the impact of COVID.
"I've been thinking about doing it for the last three to four years, back and forth, but it's one of those things that because I've had them for so long I've put it off and put it off because I'm a bit worried what I'll look like after the chop.
"The impact COVID has had on people living in poverty has pushed me more than anything else to get it done.
"I'm about to turn 30, I've had them for half my lifetime, if there was ever going to be a cause or a reason to do it, then now's the time.
"I know I'm going to cry, there will be tears and deep regret but knowing that I've raised a bunch of money will help.
"The shock factor of looking in the mirror will be huge I think."
That might not be the only shock, however, if he reaches a goal of raising $40,000 by December 6.
If he hits that mark, the beard will go as well.
"To be honest I've made that one a little out of reach because I swore I would never cut it off, I'm not sure I could handle a baby face and losing all my hair."
All proceeds from Murray's chop will be split between Compassion WA and Save the Children's Yemen crisis appeal.
To donate, head to https://www.gofundme.com/f/imcuttingitalloff