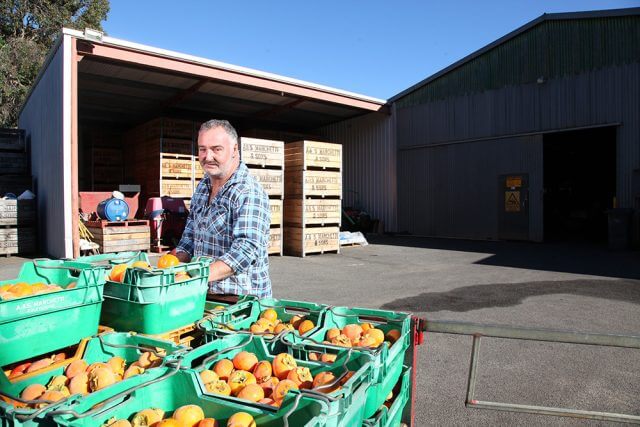 Hills Orchard Improvement Group spokesman Brett Del Simone has slammed the Federal Government's indecision regarding a tax on foreign backpackers amid talk its implementation could be postponed by six months.
The proposed change would see 417 visa holders taxed 32 cents in every dollar they earn.
It was set to be implemented on July 1 but last week The West Australian reported rural Liberal and Nationals members of parliament had secured a six-month postponement.
Mr Del Simone said in the meantime potential backpackers were already looking elsewhere for their working holidays.
"It is not acceptable for an attempt to be made to take it out of the election agenda," he said.
"This is extremely unsettling for the industry and it's causing a lack of confidence in the horticultural sector.
"As we speak we have potential 417 visa holders choosing other destinations such as New Zealand and Canada, who have far friendlier tax systems, for their working holiday."
He said there were alternative revenue raising measures on offer, including a National Farmers Federation proposal, which would see a 19 per cent flat tax rate from the first dollar.
"The superannuation provisions also need to be looked at," he said.
"I believe that should be rolled into their wage so that it can be spent here in Australia rather than being taken back and used to boost the economy of the point of origin."
Roleystone grower Andrew Marchetti said the horticultural industry was reliant on backpackers, who also helped stimulate local economies.
"While they're here they pay rent, they go to the shops and purchase goods and they go touring, so their money is going back into the local economy, which is good for businesses," he said.
Federal Member for Canning Andrew Hastie did not confirm if the tax would be postponed but said he would welcome it if an alternative could not be adopted by July 1.
"I, along with a number of my colleagues, have expressed my concerns about the backpacker tax at the highest level of government," he said.
"The Prime Minister and Treasurer are certainly aware of this issue and I understand the Treasurer will be making an announcement in the coming weeks in relation to the backpacker tax."
He understood there was uncertainty amongst growers in his electorate and reaffirmed he did not support the tax.
Treasurer Scott Morrison last week said the tax was a complicated issue that was still 'live' and required more consultation with the industry.