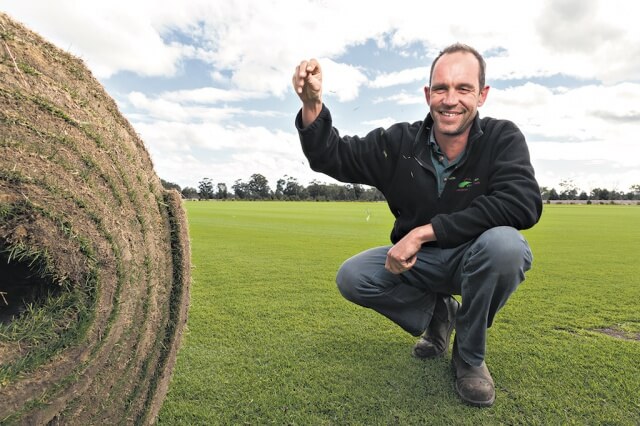 The grass is greener in Serpentine according to the State Government, which last week announced more than 17,000-square metres of turf would be grown locally for the Perth Stadium playing surface.
Contractor HG Sports Turf was appointed to prepare the pitch and grow and install the turf, which is to be grown at Serpentine-based Greenacres Turf Group.
Greenacres administration and HR manager Leanne Pitsikas said the family owned business had been behind a number of high profile stadiums in the last few years and used a specialised method.
"It has to have the durability for use but it also needs to have the visual aspect for television when games are broadcast," she said.
"So there is actually a specially formulated synthetic layer that is rolled out, then the real turf grows up in it.
"It's grown under very specific and well-regulated conditions."
The turf is currently growing across two hectares at the Serpentine site and is expected to be laid in the middle of next year.
Premier Colin Barnett, who made the announcement alongside Sport and Recreation Minister Mia Davies, said it was a tried and tested solution accommodating different sporting and entertaining events.
"The playing surface for the 60,000-seat stadium is a hugely important element of the project, not only helping players to perform at their best but also providing fans with a great viewing experience too," he said.
The same turf solution has been used successfully at major venues across Australia and New Zealand including the Melbourne Cricket Ground and Eden Park in Auckland.
Ms Davies said the turf was also used in Perth at nib Stadium and received rave reviews from players including the Socceroos.
Shire of Serpentine Jarrahdale deputy president Sam Piipponen commended the decision to grow the turf through a local business.
"It's good recognition for a local business that predominantly employs local people," he said.
"It's the type of business the shire hopes to encourage in the coming years."
Preparation of the playing surface will soon commence, involving installation of drainage equipment, irrigation systems, power cables and below-ground services including soil and gravel.
The Perth Stadium and Sports Precinct is more than 50 per cent complete and on schedule to open in time for the start of the 2018 AFL season.