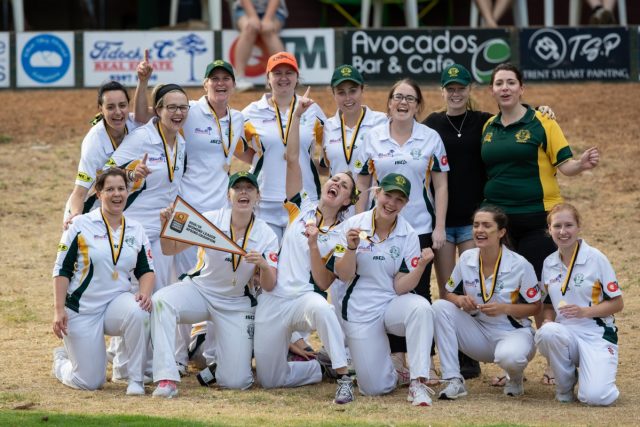 Roleystone Karragullen Cricket Club have won their first silverware of the 2018/19 season with the inaugural senior women's team defeating Applecross Red in a tight T20 contest. 
The game was played in front of a large local crowd at Cross Park on Sunday. 
After winning the toss, Applecross were sent in to bat on a slow field that typically produces low scores. 
Roleystone Karragullen got off to a strong start with an early wicket each for Adriana Della Franca and captain Sherrida Ziedas. 
Applecross continued to lose regular wickets and were in a perilous position after 10 overs at 4/44. 
However, Applecross rallied compiling a 32-run fourth wicket stand and finished the innings 6/92. 
Captain Sherrida Ziedas was the pick of the bowlers with 2/13 off four overs and Adriana Della Franca produced a miserly 1/10 off four overs with two maidens.
On a slow oval, 92 still represented a strong score and the Roleystone Karragullen women knew there was plenty of work left ahead of them.
Applecross started strongly removing star batter Samantha Thomason in the first over, but they were unable to stem the flow of runs or take regular wickets.
The game was perfectly poised halfway through the innings with Roleystone Karragullen exactly half the score on 3/46 after 10 overs. 
Robyn Ormesher scored the winning runs in the eighteenth over supported at the crease by Maddison Briggs. 
After 20 overs Roleystone Karragullen finished on 4/100 with captain Sherrida Ziedas top scoring with 15 not out. 
This was strongly supported by Adriana Della Franca (13 not out), Courtney Venning (12 not out), and Robyn Ormesher (11 not out). 
Club coach Gavin Taylor said the women's team had exceeded all expectations. 
"From where they were 13 weeks ago when they hit the side of the nets with the ball and couldn't hold the bat, to what they have achieved now, it is absolutely chalk and cheese," he said. 
"Whether they won or lost I would have been proud because they have fallen in love with the game and that was the main objective."