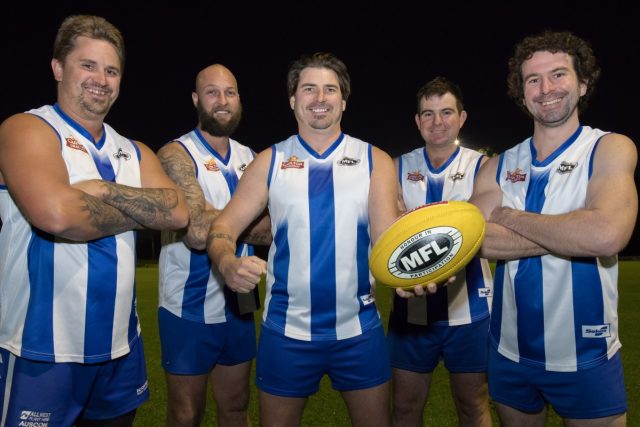 It hasn't always been smooth sailing for Kelmscott Bulldogs Football Club but the boys in blue and white have certainly hit their stride this season. 
Following the resignation of the preceding Kelmscott Senior Football Club from the Western Australian Amateur Football League at the start of 2018, the local Kelmscott Bulldogs Football Club was established and has since formed two competitive sides, which take to the ground each week with passion and determination to keep its long history alive. 
Club coordinator Rob Turner said it has been a long and hard road from humble beginnings but the club is now developing its own destiny. 
"It's more than just a football club or game, to many people the blue and white jumper is something prestigious," he said. "It represents their home, the community, their father or generations who wore it before them." 
The club successfully recruited new local talent and young players this year, including Broome superstar Francis Shoveller, Blake Collins, goal kicker Maxwell Websdale and former 2018 Kelmscott junior Jake Black and is already looking towards next year's to-do-list, starting with the formation of a young colt's team. 
"A colts team will facilitate the transition of existing players coming up from junior and new youth starting out," Turner said. 
"The talent throughout the Kelmscott and Armadale area is remarkably strong with the production of several AFL and WAFL players including West Coast Eagles player Brendon Ah Chee." 
Playing on Sundays each week in the Metropolitan Football League, Turner said the competition is ideal for players with families or players who work Saturdays or have to juggle fly-in fly-out rosters. 
"Having started last year with just a whistle, loaned jumpers and equipment, it has taken the good part of 18 months to reach some significant milestones and achievements," he said. 
"The hard work from the players, supporters and club officials is nothing short of a monumental effort." 
The club is located at John Dunn Memorial Oval. 
For more information email kelmscott1898@outlook.com.